Newspaper review: 'Hundreds cheated death' in helicopter crash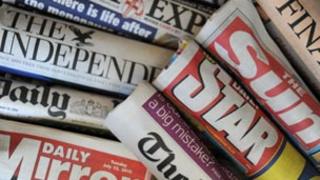 Pictures of the flaming aftermath of the helicopter crash in central London are on many front pages.
The Guardian describes the accident as a "fireball in the rush hour", while the headline in the Daily Star calls it a "flaming miracle" more people were not killed as "hundreds cheated death".
The Times says such accidents are extremely rare, but that laws on flights over cities full of skyscrapers could now be tightened.
The Daily Mail focuses on two men who survived the accident, workers who were supposed to have been manning the crane which was hit, but who both overslept "for the first time in years".
The paper calls them "the luckiest men in Britain", saying they were both thanking "divine intervention" that they missed death by minutes.
One of the men, Nicki Biagioni, tells the Sun: "I should be dead, but I stayed in bed". His wife says he was lucky that, for once, their four-year-old son did not wake him up early.
'Worst terrorist crisis'
There are fears the horse meat scandal could widen. The Times says more supermarkets could yet be affected, while the Sun claims thousands of pubs and restaurants could have bought the affected burgers in recent months.
The meat could have been in burgers for years as the Food Standards Agency has never tested for it, argue both the Daily Telegraph and the Daily Mirror.
The Independent's editorial urges authorities "to introduce more random checks... and tougher fines for those who break the rules".
British special forces are on standby to stage a rescue mission in Algeria, after foreign gas plant workers were taken hostage, says the Times.
It calls the attack the "worst terrorist crisis of David Cameron's premiership", and one of the largest foreign kidnappings of recent times.
The Financial Times says Algeria has long feared that an upsurge in militant activity could threaten its valuable southern region - rich in oil and gas.
The raid is al-Qaeda's revenge for the French operation in Mali, points out the Daily Telegraph, reporting concerns that the conflict could spread.
The Independent warns of "an anti-Western war across the deserts of northern Africa", while the Guardian imagines "an international battle, bleeding across porous borders."
And finally, "even the cost of good luck is going up", laments the Daily Express, responding to news that lottery tickets are to double in price later this year.
The Daily Mirror says punters are outraged by the increase, calling game operator, Camelot, "Lotto Rotters".