Baby llama and 78 portraits among Jubilee gifts to Queen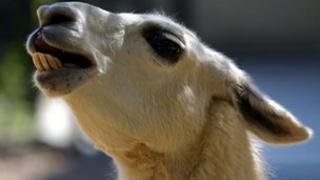 A knitted tea cosy, 19 tea towels, nine jigsaws and honorary ownership of a baby llama are all among the gifts sent to the Queen for her Diamond Jubilee.
Buckingham Palace also revealed that among the unsolicited gifts were 78 portraits of the Queen.
Jewellery, caviar and two sets of golf clubs were among the official gifts sent to members of the royal family.
The Queen's husband, the Duke of Edinburgh, was given a large gold sword from Kuwait and a maple salad bowl.
Buckingham Palace publishes a list of official gifts received by the royal family every year.
They include a jewellery set comprising a necklace, earrings, a ring and a bangle, given to the Queen by the Amir of Kuwait during a state visit in 2012.
On the same trip. Prince Philip was given a golden sword in a leather box.
Among the official gifts received by the Duke of York were a sword and caviar from the President of Azerbaijan and two golf sets, which he was given in Thailand.
The Queen, was however sent hundreds of unsolicited gifts in the year marking her 60-year reign.
They include 436 books, 235 CDs and DVDs and 81 pieces of embroidery or knitting, including a tea cosy depicting the monarch and her beloved Corgi dogs.
The animal-loving monarch also "adopted" a baby Asian elephant and was given honorary ownership of a baby llama.
Meanwhile, Buckingham Palace said on Tuesday that the Queen and Prince Philip will visit the Italian capital Rome on 6 and 7 March.
At this stage, the palace would give no more details of the visit, which will be the monarch's first overseas visit in 2013.