Four Syria terror probe suspects released in London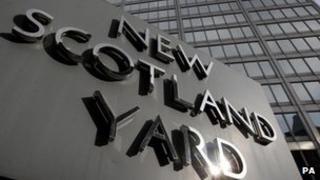 Four men arrested by police looking into the support of alleged terrorist activity in Syria have been released without charge, Scotland Yard has said.
Three men, aged 18, 22 and 31, were held at separate residential addresses in east London.
A 33-year-old man was arrested at Gatwick airport on 9 January as he tried to take a flight out of the UK.
The men were all held at a south London police station while searches at London properties took place.
Whitehall officials said the arrested men were based in the UK and were not Syrian.
The men were questioned on suspicion of the commission, preparation or instigation of acts of terrorism, an offence under the Terrorism Act 2000.
The arrests were part of an investigation into travel to Syria in support of alleged terrorist activity.
Two men had previously been charged in connection with the inquiry.