Newspaper review: UK's future in EU scrutinised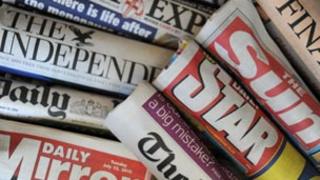 Britain's future in the EU is scrutinised by the papers, ahead of a key speech by David Cameron on Friday.
The Daily Telegraph reports plans set out by the Fresh Start group of Conservative backbenchers for returning powers from Brussels. "Tory MPs throw down gauntlet to Cameron," its headline reads.
But the UK's former ambassador in Washington and Brussels, Sir Nigel Sheinwald, warns in the Guardian the UK risks weakening its influence in world capitals if it moves to the sidelines of the EU.
Mr Cameron's position as he wrestles with conflicting views on Europe is illustrated in a number of cartoons that depict him as the Jack Russell dog in HMV's gramophone logo.
'Shabby treatment'
The Times shows him with his head spinning, surrounded by gramophones giving advice from Ukip, Tory MPs, business leaders, voters, US President Obama and the German chancellor.
Playing the dog again in the Independent, Mr Cameron covers his ears as the gramophone shouts referend... referend... like a broken record.
Amid widespread sadness at the collapse of HMV, there is also anger that the company is not honouring gift cards and vouchers.
HMV shops continue to accept cash while they remain open, so how can they justify refusing vouchers paid for in advance, asks the Daily Mail.
The Star says HMV continued to sell gift vouchers - despite its troubles - right up until Monday night, yet it no longer accepts them. What a shabby way to treat your customers, it concludes.
Beloved companion
Home Secretary Theresa May finds plenty of support for her announcement that the starting pay for raw recruits to the police service in England and Wales is to be cut by £4,000 to £19,000.
The Daily Express says the decision, although extremely regrettable, is in line with the economic situation.
The police cannot be the only public service resisting reform, adds the Sun.
And the Guardian thinks the coalition deserves credit for its willingness to confront old police culture.
Finally. the Daily Mail reports the fashion world is in mourning after the death of Tatler magazine's in-house pet.
The paper says the miniature long-haired dachshund, known as Alan, was the beloved companion of the editor's assistant, who travelled daily to work and became a favourite of Tatler staff.
He became trapped in revolving doors at the company offices in London.
He had found stardom on Twitter, with regular tweets about his day-to-day experiences and observations.