Afghan insider attacks 'not harming Nato operations'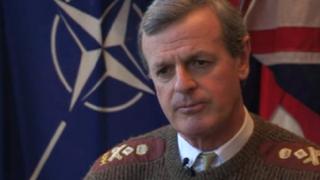 Insider attacks are not having "any major detrimental effects" on military operations in Afghanistan, the highest-ranking UK general in Nato has said.
Gen Sir Richard Shirreff told the BBC so-called green-on-blue attacks were a "grim and insidious business".
But he said they were not "deflecting" Nato forces from training and mentoring Afghan soldiers and police officers.
More than 60 Nato troops, including 14 Britons, were killed by rogue members of the Afghan security forces in 2012.
The only British casualty in 2013, Sapper Richard Walker, 23, was shot dead in an insider attack in Helmand on 7 January.
About 102,000 Nato troops are serving in Afghanistan from 50 nations, known collectively as the International Security and Assistance Force (Isaf).
Some 9,000 British troops are deployed in the country as part of the Isaf mission, which is due to end by December 2014.
'Drills and skills'
Speaking to BBC Radio 4's World at One programme from Nato's headquarters in Belgium, Sir Richard - the deputy supreme allied commander in Europe - said green-on-blue attacks were "an issue that we have to come to grips with".
"I don't in any way minimise the threat of insider attacks. It is a grim and insidious business.
"But, it is not deflecting us from our task and not having any major detrimental affect on our operational impact.
"The Afghans are facing just as great, if not more, of a threat from insider attacks, so they are as concerned as we are."
He said Isaf has adapted, adjusted and adopted new "drills and skills" to deal with insider attacks, including improved vetting procedures.
He also said there had been some success with the use of "guardian angels" - Nato soldiers who provide a round-the-clock armed guard for their colleagues while they are training their Afghan counterparts.
Sir Richard did concede however, that insider attacks would not be "completely eradicated".
'Exceeded expectations'
After returning from his latest visit to Afghanistan, Sir Richard said he was "optimistic" that the Afghan National Army and police force would be able to take on sole responsibility for their national security by 2014.
He said: "As we have gone through the transition, in the last two years [the Afghans have] increasingly matched expectations and exceeded expectations.
"The international community and the coalition remains remarkably cohesive and remains committed to supporting the Afghans to the end of the Isaf missions and indeed beyond 2014."
But he insisted "major challenges" remain, acknowledging there will still need to be a Nato-led "train, advise and assist" mission beyond 2014.
"I completely acknowledge there remain deficiencies and gaps in terms of combat support, issues with administration, issues with leadership and command.
"We're not looking for perfection by the end of 2014. We are looking for the Afghans to be capable of assuming responsibility for the security of their country, which they will do," he said.
Despite his concerns, Sir Richard said he was "confident... the Afghan national security forces will get where they need to" in the next two years.
"You only have to look back two or three years to see how far they have come. Afghan brigades are routinely planning and executing operations independently or with advisers on the ground.
"That doesn't mean to say they are completely there... but all these are areas that can be put right and we have plenty of plans in place," Sir Richard concluded.