Newspaper review: Papers consider British role in Mali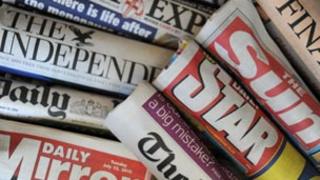 Britain's role in the French-led operation against Islamist militants in Mali raises concern in Tuesday's papers.
According to the Independent, defence chiefs are warning against Britain becoming enmeshed in the conflict.
The nation is currently providing two RAF transport aircraft, and commanders are worried the armed forces could become overstretched, it reports.
UK military personnel could be part of a European Union mission "within weeks," adds the Daily Telegraph.
But the Guardian believes France could be drawn into a protracted counter-insurgency without the full backing of its Nato and regional allies.
For the Financial Times, the French military action is preferable to allowing advances by Islamist militias and is "the lesser of two evils".
'Cold snap'
Elsewhere, a "killer freeze grips Britain," reports the Daily Express. It says freezing winds from Russia could bring the lowest UK temperatures ever recorded, with some areas facing days of heavy snow.
The Daily Mirror and the Times are among several papers to highlight calls for neighbours, paper boys and milkmen to keep an eye on vulnerable people during the cold snap.
Meanwhile, "bravo", says the Daily Mail. "The pensions minister actually understands pensions."
The Independent also admires Lib Dem minister Steve Webb's explanation of plans for a single flat-rate pension.
The Guardian talks of "a simplification worth supporting".
But its "pension potty", as most people will be worse off, warns the Sun.
The Daily Mirror calls it a "shambles".
Finally, many papers agree the most poignant moment at the Golden Globe awards was the speech by actress Jodie Foster, in which she spoke publicly for the first time about being gay.
The Independent says her comments shamed Hollywood, where the number of A-listers who are openly gay can be counted on one hand - "lamentable indeed".