Duchess of Cambridge due to give birth in July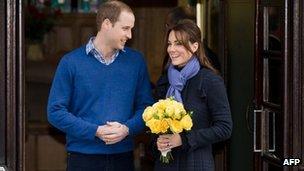 The baby expected by the Duke and Duchess of Cambridge is due in July, St James's Palace has announced.
A spokesman added that the duchess's condition continued to improve since she spent time in hospital last month suffering from severe morning sickness.
Her treatment for hyperemesis gravidarum - more commonly experienced by women carrying twins - led to press speculation about a double birth.
But the latest announcement confirms Kate is expecting just one baby.
"Their Royal Highnesses the Duke and Duchess of Cambridge are delighted to confirm they are expecting a baby in July," said the spokesman.
"The duchess's condition continues to improve since her stay in hospital last month."
The child will be third in line to the throne, and changes to succession rules mean that it will become monarch whether it is a boy or a girl.
New legislation is due to go through Parliament that will end the system of male primogeniture that gave men precedence over women in line to the throne.
The initial public announcement of the pregnancy before the usual three-month mark was prompted by the duchess's medical condition.
Hyperemesis gravidarum can leave expectant mothers unable to keep food or liquids down.
After the duchess spent three days being treated for the condition in King Edward VII's Hospital in central London, she was ordered by doctors to have a period of rest at home at Kensington Palace.
She was forced to miss some engagements, but made her first public appearance after the spell in hospital at the BBC's Sports Personality of the Year event.
The 31-year-old duchess was last seen in public on Friday, when she and Prince William visited the National Portrait Gallery in central London for the unveiling of her first official portrait.