Newspaper review: Pension change gets mixed reception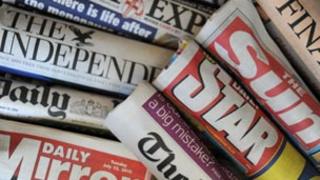 The Times is among those to examine the government's planned pension changes - noting that 750,000 women in their 50s will receive an extra £468 a year in retirement.
For the Daily Mail, the main story is what it calls the "£155 pension boost for stay-at-home mothers" - with Work and Pensions Secretary Ian Duncan Smith telling the paper that his reforms will be "incredibly pro-family".
The paper praises him for tackling what it calls "the injustice that stay-at-home mothers received inferior pensions".
But the Daily Express complains of a "con trick" £145 a week pension - quoting pension campaigners unhappy that future generations will have to pay more and work longer.
'Hollande's war'
The Financial Times, meanwhile, examines France's intervention in Mali, arguing that, while he's secured almost unanimous political support, President Hollande's open-ended aims could mean his first foreign military intervention ends up as divisive as gay marriage.
The Guardian agrees there are high stakes in what it calls 'Hollande's war' , but believes that, after criticisms of dithering on the economy, it has shown the French leader in decisive mode and could transform his political image.
The Independent's columnist, Owen Jones, reckons: "We're being led into another war that risks disaster".
He argues that, as well as spreading further chaos in the region, France and its allies are now at greater risk of terrorist attack.
Under the headline "No, Minister" the Times reports what it calls the worst crisis in Whitehall, saying its special investigation has found that an increasingly bitter power struggle between ministers and mandarins is threatening to derail David Cameron's reforms.
According to the paper, in some departments tensions over the pace and scale of coalition policy has given way to what it calls "outright mistrust", with ministers feeling blocked by an unwilling and unwieldy civil service.
For the paper, reforms to make the civil service "smaller and more open to outside influences" are urgent, though, it concedes, not easy to achieve.
Bill 'blow'
The Daily Telegraph is among the papers to carry a warning from MPs that families are facing higher energy bills because of what it calls "wind farm blunders".
The Public Accounts Committee report says "generous" deals worth £17 billion - agreed with wind energy providers by Labour but implemented by the coalition - could add £35 pounds a year to the average bill for two decades.
For the Daily Mirror, it's a "low blow" which will heighten scepticism over what it calls "a crucial alternative energy source".
The impending cold snap leads to the usual flurry of dire predictions.
The Daily Mirror advises readers of the threat of "travel hell" with the headline "Snow Go Britain".
The Sun says temperatures could drop as low as -14C on what it's dubbed "Arctic Monday".
And finally, the Daily Telegraph reports the unfortunate tale of residents in Southampton who worked hard to create " a horticultural oasis" in communal flower beds in a local park- only to suffer what it calls "a border raid" by overzealous council staff.
The police had apparently asked that some of the bushes be cut back - to prevent drug dealers hiding behind them - but instead workers dug up all the flowers and shrubs.
The council insists it's staff acted with good intentions - but has promised to repair the damage.