Barnardo's concern over child sex trafficking rise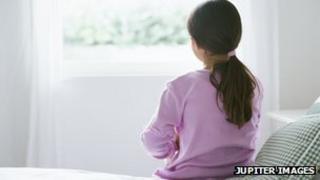 The UK has seen an "alarming" 22% year-on-year rise in children being sexually exploited, the charity Barnardo's says.
Barnardo's said that a quarter of the 1,452 victims it had recorded had been trafficked for sex within the country.
Chief executive Anne Marie Carrie said: "There is an alarming rise in the number of children being moved around the country by abusers.
The Home Office said "significant progress" was being made implementing an action plan to tackle the problem.
The charity also reported it had found that children as young as seven had met strangers on the internet.
Barnardo's said that - based on a snapshot of those children it worked with during September - the number of young people known to be trafficked within the UK had risen from 76 in 2011 to 140 last year.
Although the issue of international sex trafficking of vulnerable people - both adults and children - is often highlighted, Barnardo's says its figures point to the prevalence of the problem inside the UK.
Ms Carrie said: "Domestic trafficking for sexual exploitation is the most sophisticated form of this abuse; organised violation through networks of criminals.
"Yet it isn't monitored nearly well enough by the authorities and comparatively little focus is given to stopping vulnerable children from being exploited in this way."
Strangers online
The charity surveyed 23 of its specialist services across the UK for its annual report.
In Wales, the charity found the numbers of sexually exploited children it helped increased from 22 to 83.
Andrew Wallis, chief executive of Unseen, a human trafficking charity, says concrete steps need to be taken to save vulnerable children.
"Social services, the police, children and young people services... need to be able to spot the signs of when someone is being trafficked. We need to put really robust measures in place to protect those children.
"But then also we need to actively go after the traffickers and disrupt them and prosecute them with the full force of the law."
Barnardo's called on the government and devolved administrations to do more to protect children from being trafficked for sex.
A Home Office spokesman said: "Child trafficking and child sexual exploitation are both abhorrent forms of child abuse and the UK government is committed to combating this crime in all its forms.
"Since 2011 we have been delivering a child sexual exploitation action plan to raise awareness, prosecute and jail criminals, protect young people at risk and help victims get their lives back on track.
"We have already made significant progress in the fight against trafficking but are not complacent and will continue to work to improve and strengthen our approach."