Savile scandal: Media reaction to Met Police and NSPCC report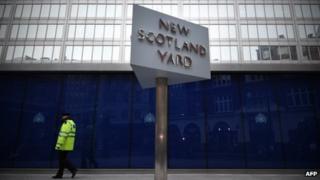 The full scale of sex abuse allegations against Jimmy Savile have been revealed in a report by the NSPCC and Met Police.
Among the late DJ and presenter's victims were an eight-year-old boy, and he is also said to have abused children at 13 hospitals and a hospice.
Police said Savile had "groomed the nation" as they detailed allegations spanning more than five decades.
Meanwhile, a separate review found opportunities to prosecute Savile in 2009, while he was still alive, were missed.
So what do commentators - and the UK press - make of the report, what should happen next, and the wider implications for attitudes towards sex crimes, and how they are dealt with?
UK press editorials
"For the police and prosecutors, who missed three chances to bring Jimmy Savile to justice, this was a day of shame. For the schools and hospitals where he carried out many of his vile attacks, it was a day for soul-searching reflection on procedures for protecting the vulnerable in their care. But it is the BBC that carries the overwhelming responsibility for promoting and endorsing the monster it employed. And for the reputation of our national broadcaster, this was a day of utter devastation."
"Friday's reports portray institutions that were complaisant - police sympathetic but pusillanimous in the face of what they took to be society's norms, and prosecutors negligently reluctant to risk testing public opinion by pursuing charges... We all bear a certain responsibility for letting him get away with it for so long. Now we all bear a shared responsibility for stopping it happening again."
"Savile's victims, finally, deserve compensation. Lawsuits against his estate and against institutions that allowed him to groom and abuse so many are in most cases the only route left to formal restitution. If taxpayers and BBC licence payers end up footing some of the bill, that would not be entirely inappropriate. Savile groomed the nation, but the nation let it happen."
"Why do so many institutions and individuals come over all weak-kneed in the presence of celebrity, assuming that fame automatically carries extra weight in the scales of justice? ...At least one insult looks set to be righted. The Government is warming to The Sun's campaign to strip Savile of his knighthood."
"The Savile scandal is a lesson in child protection failure; it is a lesson in institutional inadequacy; it is a lesson in the malign power of social pressure. The only remotely adequate response is to ensure it could never happen again."
"Both explanations - if that is what they are - for police and prosecutorial inaction over the few allegations that were made by those willing to hurdle the fear of ridicule or worse, leave a vile taste and the nagging worry that it might still be happening."
"It is all very well for those in authority to say that a campaign of sex abuse such as carried out by Savile could not today be waged without prosecution but there is no room for complacency. We all have a duty to report evidence of sexual abuse whenever we encounter it."
Commentators
Charles Moore, the Daily Telegraph:
"The report is called Giving Victims a Voice, and it says repeatedly how dreadful it was that Savile's victims were not believed. But one of the odd things about it is that it does not give such a voice. No victim is identified (which, in itself, is understandable, but does undermine the report's declared purpose) and hardly any are quoted. So what the report is really doing is saying, "We've talked to these people, and we believe them. We know what we're doing, so you'd better believe us." How can we test such assertions?"
Fleet Street Fox, the Daily Mirror:
"It doesn't say 'here are the people who made mistakes'. It doesn't say 'this is how it happened'. Most importantly, it doesn't say 'this is how to stop it happening again'. Because even though this report admits that had the victims been taken more seriously Savile could have been prosecuted while he was still alive, it won't change anything."
Amanda Platell, the Daily Mail:
"We are right to be appalled at the endemic failure of these institutions whose duty was to protect children. Yet while the investigation into Savile's crimes has been long overdue, I have a growing unease about the fervour and breadth the continuing inquiries are taking... How sad if the investigation into the sadistic acts of a psychopath was to become a police circus in which the concept of 'innocent until proven guilty' was lost in the desperation to atone for past failures."
Deborah Orr, the Guardian:
"It is so important that all victims of such crimes report them, and feel safe in the knowledge that even if their carefully recorded, thoroughly examined evidence is not immediately useful, it may turn out to be part of a pattern of evidence at a later date. That is the watershed that is needed now."
Sara Payne and Shy Keenan, the Sun:
"This report is a step in the right direction, but doesn't go anywhere near far enough to push for the real sea change needed here. So many changes are needed - ranging from victims getting legally aided solicitors to a new understanding and protection from paedophile grooming and Anti-Victim Prejudice."
Reaction on Twitter
Gordon Rayner, chief reporter, the Daily Telegraph: "CPS's full report into Savile (see CPS website) makes incredible reading. Police dissuaded victim from giving evidence agnst 'big celebrity'."
Tim Loughton, Conservative MP and former children's minister: "Extent of Savile abuse truly shocking & fact still going on as late as 2009 underlines need for overarching enquiry into child abuse."
Lucy Manning, ITV News UK editor: "I think Savile victims will be extremely angry reading report into failure to prosecute Savile while alive. Basically he got away with it."
Owen Jones, Independent columnist and author: "Jimmy Savile "groomed the nation" according to police. Ah, come on. Horrendous crimes against hundreds of children, yes. But this is silly."
Edwina Currie, former Conservative MP: Just read #savile report. He "groomed the nation", was "hiding in plain view." Wicked cunning criminal all his life, fooled us all."
Barbara Hearn, former chief executive of the National Children's Bureau: "#savile case is a terrible indictment of #celebrity culture and widespread failure across society to #listen to #children & #youngpeople."