Araucaria crossword setter gives cancer clue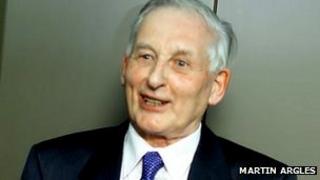 One of Britain's most celebrated crossword setters has used one of his own puzzles to announce he is dying of cancer.
The crossword in the Guardian was set by the Reverend John Graham, 91, known as Araucaria.
In his clue, he said Araucaria had 18 down of the 19, which is being treated with 13-15. This translates as cancer, oesophagus and palliative care.
He said leaving the clue "seemed the natural thing to do somehow".
His pseudonym Araucaria is the Latin name for monkey puzzle tree.
Mr Graham, who has been writing crossword puzzles for more than 50 years, told the paper he did not plan to make any future reference to his illness in other puzzles.
"I should think this is a one-off because I don't really know what else there will be to say," he said.
'Very touched'
He said he was "very pleased" his doctors had decided against surgery or chemotherapy.
"There isn't a prognosis, really. They simply don't know how long it's going to take.
"I asked them last week how long I'd got, but nobody knows how long you've got. They said it won't be years and years, but it could be a large number of months."
He also said he was "very touched" by the reaction to the crossword, which first appeared in the puzzle magazine 1 Across.
"People have been ringing and sending me cards," he said. "It's been very nice, but I can't reply to them all."
Mr Graham said he plans to continues to creating puzzles for as long as possible.
"I'm not actually doing much else."