Flat-rate pensions plan revealed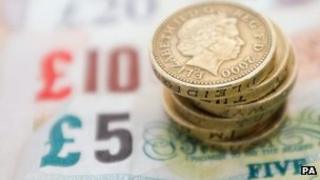 Details of the government's plans to introduce a flat-rate pension by 2017 - equivalent to £144 per week in today's money - have emerged ahead of an official announcement next week.
The self-employed and some women could benefit from the changes to pensions.
But some workers will pay hundreds of pounds a year more in national insurance to fund the shake-up.
Government changes to how the state pension is funded will be set out in a White Paper to be published on Monday.
The proposals were originally published in April 2011. At the time the option of a universal flat-rate payment was seen as the biggest overhaul of the system for decades.
Labour's Ed Miliband said he wanted to see the plans in full before he could judge whether they were a good idea.
'Contracting out'
The Daily Telegraph reported that more than six million workers would pay higher NI contributions under the new system.
Those affected are expected to include around 1.4 million private sector staff enrolled in final salary schemes and contracted out, said the Telegraph.
The plan would bring "contracting out" arrangements to an end - where some people pay lower National Insurance contributions because their second state pension is contracted out to their company final-salary pension scheme.
As a result, these people's NI bill would rise, but their state pension would also be greater.
The Telegraph reported another five million public sector workers in similar schemes would also pay higher NI.
The BBC's Simon Gompertz said someone on an average wage who is affected in this way might have to pay an additional £270 a year.
However, there are also beneficiaries under the scheme.
Some groups, including women who have been in and out of the workforce due to motherhood, part-time workers and carers, will gain.
Many women, and the self-employed, are currently penalised for not making full national insurance contributions.
'Come clean'
Labour leader Mr Miliband said: "The most important thing the government needs to do is come clean about what the implications of their pensions proposals are.
"We've supported the idea of a flat-rate pension but we need to see the detail - and frankly the detail shouldn't come from leaks to the newspapers, it should come from the promise the government's been repeatedly making that they'll publish their plans."
The white paper is expected to remove complexity from the system and to make millions better off in retirement - the idea is to provide a flat pension payout that "everyone can build towards", according to BBC business correspondent Philip Hampsheir.
But, our correspondent added, as the plan is cost neutral, there will be some losers, such as those in secure so-called "final salary" or occupational schemes, who will no longer have government payments into those plans.
Pensions expert Tom McPhail, of Hargreaves Lansdown, said many workers would do better out of the new system, despite some having to pay more national insurance.
"We will ultimately move to a much simpler system - it'll be a more even system, fairer, everybody will get more closely aligned benefits, so the long term outcome will be much better for everybody," he said.
"But we have a very complex system at the moment, so to get from here to there is going to require quite a lot of recalculations and adjustment, it'll be a lot of work, and there'll be some winners and losers from all of that."
In the long-term, the government hopes the new scheme will save it billions of pounds.
The Department for Work and Pensions confirmed that under a single-tier pension there would be no contracting out so workers would pay more national insurance, but as a result they would get a better state pension.
However, if a person has paid into a second state pension already then they will get the money back, a spokesman said.
More details will be made public on Monday when the official announcement is made, he said.