Newspaper review: Savile sex abuse main story for most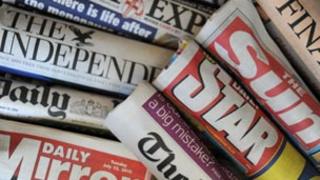 The report on Jimmy Savile's sexual abuse is the main story for most of the newspapers.
The Times has the headline: "Savile: the man who groomed a nation" - quoting from the police officer who led the inquiry.
The Independent says even the report's description of Savile as a "prolific, predatory sex offender" seems hardly sufficient to compass exploitation on such a scale for so long.
The Sun describes him simply as Britain's worst sex beast. In the Guardian, Deborah Orr writes that Savile was truly an evil genius, surely the most pathologically perverted creature that popular culture has yet fostered.
Faux pas?
According to the Financial Times, David Cameron has astonished Berlin by looking to make his long-awaited speech - setting out his position on Britain's place in Europe - on the same day that France and Germany celebrate the 50th anniversary of their post-war reconciliation.
The paper says Mr Cameron is considering making his speech in Germany, where French and German politicians will be gathered for the celebrations.
British officials have told the paper the provisional date - January 22 - "is not intended" to be provocative, and the choice of venue is still open.
The Times reports that a series of conferences has been convened, bringing together more than 200 medical and public health professionals, to agree the best way to tackle headaches - a problem it says drives millions of people to frustration and despair.
The organiser of one of the conferences tells the paper that the overall burden of headaches is similar to arthritis and diabetes, and worse than asthma, but is not given anything like the same priority by the health service.
'Cold, not chaos'
The Telegraph says ministers have drawn up plans to impose higher rates of air passenger duty on passengers at Heathrow and Gatwick, to encourage them, and some flights, to use other airports.
According to the paper, the Treasury asked HM Revenue and Customs to examine what would happen if passengers flying from Heathrow and Gatwick were charged 50% more tax.
It found the number of travellers using both airports would fall, and there would be an increase in numbers at Luton, Birmingham and Stansted.
The Treasury tells the paper the study was merely a "research project to inform policy-making in general".
"Worst freeze for 20 years", is the headline in the Express.
But the Guardian - in its leader column - urges forecasters to stop "over-egging" fears of a crisis caused by snow.
The paper says the Express may sell a few more papers and they may get lucky and be right. More likely, though, it predicts, there will be cold, not chaos, especially in the cities.