England prison closures 'to continue in 2014'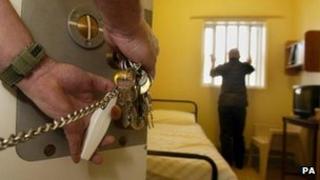 A programme of prison closures in England is expected to continue next year with five more jails being shut, the BBC has learned.
Sources said an announcement was likely next January. It comes after ministers confirmed seven "old and uneconomic" prisons would close this year.
Asked about further closures, the government said it would be looking for other "opportunities to modernise our custodial estate and drive down costs".
The five jails have not been revealed.
In Thursday's announcement, the Ministry of Justice said that six prisons would be closing, as well as one of the three jail facilities on the Isle of Wight that have been amalgamated with each other.
The prisons that are to close are Bullwood Hall in Essex, Canterbury, Gloucester, Kingston in Portsmouth, Shrewsbury, and Camp Hill on the Isle of Wight.
The UK's oldest working prison, Shepton Mallet, in Somerset, is also among those to be shut.
'Sufficient places'
Chelmsford and Hull prisons will be partially shut.
The MoJ said it also planned to build a new super prison with 2,000 places in London, north-west England or north Wales.
Some 1,177 members of staff work at the prisons earmarked for closure this year. Staff will be offered re-deployment and voluntary redundancy.
The prison population in England and Wales currently stands at 83,632. The operational capacity is 90,451.
Five other jails have been closed since the coalition government came to power in May 2010.
The Ministry of Justice said the closure of the seven prisons this year would result in the loss of 2,600 places from prisons and was expected to save £63m per year in running costs.
It said the cost of keeping prisoners in newer prisons was half as expensive as older jails.
BBC home affairs correspondent Sally Chidzoy said when asked about the potential closures in 2014, the MoJ insisted it would always ensure there were sufficient prison places for offenders sentenced to custody by the courts.
A spokesman said: "Decisions on the future size of the estate will reflect the current and projected prison population."