Snowfall due for parts of Britain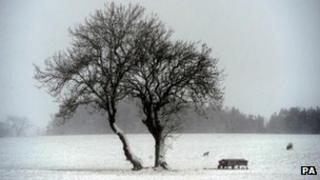 Snowfall is due for parts of England, Wales and Scotland over the weekend, as the Met Office issues "be aware" weather warnings for ice and snow.
Snow is expected on Saturday in the south of England, in the Midlands, Wales and along the east coast, from East Anglia to Aberdeenshire.
Sunday will see snow flurries continuing along the east coast.
Temperatures are due to fall next week, with many places being only a few degrees above freezing during the day.
BBC weather forecaster Sarah Keith-Lucas said Friday might see "the odd sleet or snow flurry" along the east of Britain, also from East Anglia to Aberdeenshire.
Then on Saturday a mixture of ice and snow is expected along that eastern area as well as parts of Wales and England, with the heaviest snow due on higher ground such as the Cotswolds and the Chiltern Hills.
At lower levels, forecasters expect about a centimetre of snow, and there may be a "slight covering" in London later on Saturday.
Ice warnings are issued for Sunday in much of Wales, the south of England and across the Midlands, but fresh snow is not expected in those areas on that day.