Archbishop of Canterbury: Vote to confirm Justin Welby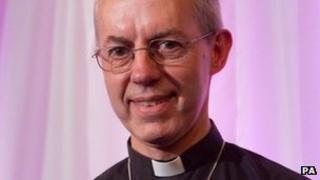 A 1,000-year-old ceremony on Thursday will confirm Justin Welby as Archbishop of Canterbury-elect.
The Dean and Chapter of Canterbury Cathedral will meet as part of a medieval tradition where the dean and canons of cathedrals selected bishops.
There will be only one name on the ballot sheet and the electors will be under royal command to choose him.
Bishop Welby will remain the Bishop of Durham until a legal ceremony at St Paul's Cathedral next month.
Fight for right
At the Confirmation of Election on 4 February, the Dean of Canterbury will confirm to a commission of diocesan bishops that Bishop Welby has been elected according to statute.
For centuries Canterbury Cathedral has had to fight for the right to elect the archbishop.
It was largely Henry II's dispute with the Archbishop of Canterbury, Thomas a Becket, over control of the Church that led to Becket's murder in 1170.
In 1209 the Pope had to intervene when the cathedral elected a rival candidate to the cleric preferred by King John.
In the Reformation, cathedrals finally had their right to elect bishops enshrined in a constitution - but only if the candidate was the monarch's nominee.
So when the dean and canons of Canterbury meet on Thursday it will be to obey a royal command to make Bishop Welby archbishop-elect.
Royal approval
Bishop Welby will formally become Archbishop of Canterbury when his fellow bishops confirm his election next month at St Paul's Cathedral.
His enthronement will be at Canterbury Cathedral in March.
The 104th Archbishop of Canterbury, Dr Rowan Williams, stepped down from the position at the end of last year. Bishop Welby had been named as his successor in November.
His name was submitted to the prime minister by the Crown Nominations Commission after a consultation process, and the Queen approved Bishop Welby for election.
The College of Canons will meet in the Chapter House of Canterbury Cathedral to elect Bishop Welby to be the new Archbishop of Canterbury.