Royal baby girl 'would be princess'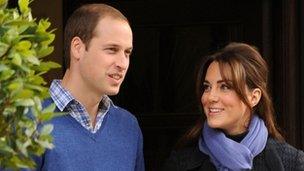 The Queen has confirmed that if the Duke and Duchess of Cambridge's baby is a girl, she will be a princess and be styled Her Royal Highness.
She has issued a Letters Patent, which removes an anomaly that has been in place since 1917.
The previous royal decree by George V stipulated that a son would become a prince, but a daughter would not become a princess.
In December the couple announced that they were expecting a baby.
A Letters Patent is a type of legal instrument in the form of an open letter, granting the title.
Its wording states: "All the children of the eldest son of the Prince of Wales should enjoy the style, title and attribute of Royal Highness with the titular dignity of Prince or Princess prefixed to their Christian names".
George V had decreed that the titles Royal Highness (HRH) and prince and princess should be restricted to the children of the sovereign, the children of the sovereign's sons, and the eldest son of the eldest son of the Prince of Wales.
In December, a new law was published - the Succession to the Crown Bill - which means the couple's first child will become monarch, whether they are a boy or girl.
It came after consent was given by all 15 Commonwealth realms to press ahead with the legislation and will be voted on in the Commons as soon as parliamentary time allows.
The new legislation will end the system of male primogeniture, meaning male heirs will no longer take precedence over women in line to the throne.
The bill will also end the ban on anyone in the line of succession marrying a Roman Catholic.