Syria conflict: Britain hosts conference of experts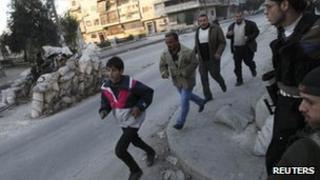 The UK is hosting a conference of experts on Syria to plan for the possibility of the collapse of President Bashar al-Assad's regime.
Two days of closed-doors talks will take place among international officials and the Syrian opposition.
The discussions will focus on avoiding the risks of a dangerous breakdown during any period of transition.
The UK is convinced the downfall of President Assad is "inevitable" but recognises the risks of radical change.
'Galvanise planning'
Dozens of Syria experts from key countries are gathering at a country house in Sussex which is a Foreign Office conference centre.
They will try to plan as smooth a transition as possible in the event that the present regime is overthrown.
Sessions will focus on challenges such as maintaining public order amid revolutionary turmoil, and ensuring Syria's public servants still get paid and essential services keep going.
This is as well as protecting Syria's most sensitive sites including chemical weapon stores.
BBC diplomatic correspondent James Robbins says it is supposed to be a meeting of practitioners not politicians.
UK Foreign Secretary William Hague will not be attending but is pushing for practical results, our correspondent added.
Mr Hague tweeted: "Aim is to galvanise planning for political transition in Syria.
"Assad's departure from power is inevitable. Vital that international community plans ahead for the day after in Syria."
Real challenges
Syrian opposition figures taking part will be urged to work with some of those now in the government they are fighting but who might play a positive role in future.
Our correspondent said the challenges were very real - past conflicts showed how easily apparent success could slide towards disaster and no-one taking part knows when any plans they make would be put to the test.
In a rare recent television address, Mr Assad denounced his opponents as "enemies of God and puppets of the West".
The speech was condemned by the US and other Western countries.
The United Nations has said that 60,000 people have died in the conflict in Syria since the violence began in March 2011.