Bali drugs accused 'feared threats to family'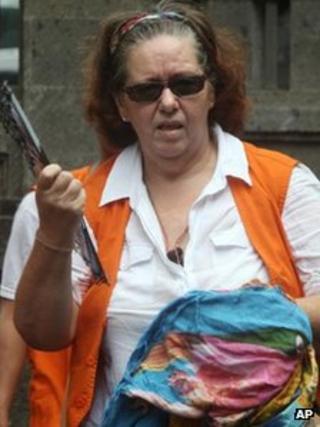 Lawyers representing a British woman on trial in Bali for drug smuggling have told a court she committed the crime under pressure from "other parties".
Lindsay Sandiford, 56, is accused of trafficking 10.6lb (4.8kg) of cocaine onto the Indonesian island in May.
She is expected to tell the court the "lives of her children were in danger" if she did not co-operate.
Prosecutors have called for Mrs Sandiford to be imprisoned for 15 years, rather than face execution.
Mrs Sandiford faces three drug offences in Bali, after she allegedly smuggled the drug on a flight from Bangkok, Thailand, to Bali in the lining of her suitcase.
She is accused of being at the centre of the case involving three other Britons.
She has repeatedly denied that she was attempting to sell drugs in Bali, insisting that she had been coerced into bringing cocaine onto the island.
Vulnerable target
Mrs Sandiford's lawyer, Esra Karo Karo Kaban, began his defence by saying she had no prior convictions and did not commit the crime willingly but was under duress from external parties.
The 56-year-old, originally from Redcar in Teesside but living in Gloucestershire, had co-operated with police to unravel a drug trafficking network, he added.
Mr Kaban said her history of mental health problems made her a vulnerable target for criminal gangs.
In a witness statement, written by Mrs Sandiford and submitted to the court, she apologised to "the Republic of Indonesia and the Indonesian people" for her involvement.
She added: "I would never have become involved in something like this but the lives of my children were in danger and I felt I had to protect them".
The extract of the statement was obtained by British human rights charity Reprieve.
Its spokeswoman, Harriet McCulloch, said Mrs Sandiford "was targeted by drug traffickers who exploited her vulnerability and made threats against her children".
Revenge attack fear
She added: "Following her arrest, she was interrogated by the Indonesian police without a translator, legal representation or the assistance of the British Embassy for 10 days.
"We hope that the judges take all of this into consideration when handing down their verdict."
Mr Kaban also read a statement from Mrs Sandiford's son, Eliot.
In it, he said he believed his mother was forced into trafficking the drugs after a disagreement over money paid in rent on an apartment Mrs Sandiford rented on behalf of her son.
"I love my mother very much and have a very close relationship with her. I know that she would do anything to protect me.
"I cannot imagine what I would do if she was sentenced to death in relation to these charges," Mr Sandiford wrote.
Mr Kaban added that Mr Sandiford was reluctant to travel to Bali to give testimony for fear of a revenge attack and threats to his life on his return to the UK.
The next hearing has been scheduled for Wednesday, with a verdict is expected later this month.