Nepal's Colonel Kumar Lama held after court appearance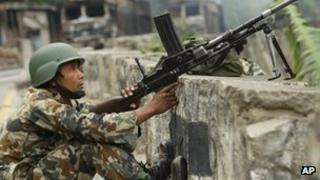 A Nepalese army officer has been remanded in custody after appearing at Westminster Magistrates court charged with two counts of torture.
Colonel Kumar Lama is accused of committing the alleged crimes in Nepal during the country's civil war in 2005.
The 46-year-old, currently seconded to the UN, was arrested at his East Sussex home by the Met Police on Thursday.
He faces trial in Britain under a law that allows prosecution of alleged war criminals.
Col Lama spoke once to confirm his identity at the hearing, where he was charged with intentionally "inflicting severe pain or suffering" as a public official on two separate individuals.
The offences are thought to have taken place between April and May 2005 and April and October 2005 at the Gorusinghe Army Barracks in Kapilvastu, Nepal.
Protest note
Col Lama's arrest in St Leonards-on-Sea near Hastings has angered the Nepalese government, who have requested Col Lama's immediate release.
They have summoned the UK ambassador in Kathmandu to protest and instructed the Nepalese embassy in London to submit a protest note to Downing Street.
Two diplomats from the Nepalese embassy were at Westminster Magistrates for the short hearing.
Col Lama is currently employed as a UN peace keeper in South Sudan. He was due to return to Africa on Saturday after a Christmas break to the UK, but was arrested on 3 January.
The court heard the colonel had previously served as a UN peacekeeper in Sierra Leone and twice in Lebanon.
District Judge Quentin Purdy ordered the 46-year-old to remain in custody before he appears at the Old Bailey in London on 24 January.