Alone at the seaside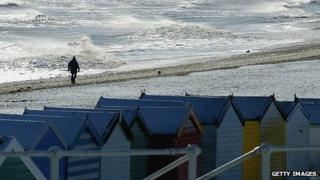 The Census 2011 shows a 20% increase in the number of people in England and Wales whose marriages have collapsed, compared with a decade before.
There are now more than four million divorcees and more than a million people who are separated from their spouse.
The sad story of marital breakdown is well documented, but the census also reveals the neighbourhoods with the highest proportion of divorced and separated residents. It seems when relationships fail, people head for the seaside.
In Hastings, one person in six (16.5%) is divorced or separated. It is a similar proportion in Blackpool (16.3%). Next on the list come seaside resorts like Margate (Thanet), Weymouth and Torbay where around 15% of people have experienced marriage break-up.
Confirming the briny link, the rest of the top ten emerge as Gosport, Eastbourne, Isle of Wight, Corby and Worthing. OK - I know Corby is not on the coast - but equal 10th on the list is Shepway (the Folkestone area) which most definitely is.
So what is going on? My best guess is that seaside resorts tend to have plenty of relatively cheap bedsits. When marriages break up, one or both partners may need inexpensive accommodation at short notice.
The census does show that Hastings has the third highest proportion of private rented homes outside London. Blackpool has the sixth highest and Margate the 12th. And Valuation Office Agency figures show that the average monthly rent for a one-bed flat in these places is a third less than the English average - around £400 pcm compared to almost £600 pcm.
This offers a practical economic explanation for why divorcees make for the coast. But I wonder if there is a psychological element in this as well.
In the emotional aftermath of relationship breakdown, people need somewhere to gather themselves, to reflect and think about rebuilding their lives. The sea offers space, a view to a distant horizon, a physical perspective less oppressive than hard-edged close-up urban architecture.
Out of season, there is often a peculiar solitude on the beach; wind and spray feel elemental on one's face. It is an environment designed for big thoughts. Perhaps those that pitch up in the summer are simply hoping to cheer themselves up with sunshine and candyfloss.
Hastings and Blackpool lie at the end of railway lines. Many residents once arrived clutching a single ticket. In both towns, 38% of households are people living alone. Many of those who came to sort themselves out after their marriage collapsed never left.