Troops' role changing as 2012 ends in Afghanistan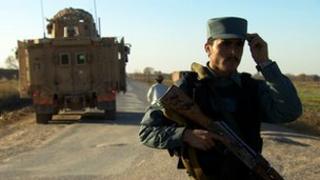 There has not been a British fatality for more than a month in Helmand. In part, it can be explained by the quieter winter - the insurgency is at its most deadly during the hot summer months. But it also reflects the changing role of the British military as they prepare to pull out.
It is the Afghan police and army that are now largely leading the fight, as British forces are lowering their profile. Nearly 60% of the British military bases in Helmand have either been handed over to the Afghans or dismantled.
Over the past year the British forces' focus, along with their Nato allies, has been on training up the Afghan security forces, in what is now becoming a more advisory role.
It is a task that still comes with risks, and 2012 has seen a dramatic rise in so-called "insider" or "green on blue" attacks, when rogue Afghans in uniform target foreign troops. A quarter of the 44 British troops who have died in Helmand this year have been killed in such attacks.
Mission continues
The most recent "insider attack" on a British soldier took place at Camp Shawqat in Nad Ali. Capt Walter Barrie was shot dead by an Afghan in uniform as he was playing football on Remembrance Sunday, the last British fatality of 2012.
His comrades who witnessed the tragedy are still training Afghans to detect roadside bombs on the same patch of muddy sand on which he was killed.
Capt Barrie's friend, Maj Andy Lumley, admits the incident gave his men "pause for thought". But he said in a show of "sheer bloody-mindedness" they were out playing football with the Afghans again the next day. Maj Lumley says the men still grieve for Capt Barrie, but they will not allow one incident to derail the mission.
There are, though, some doubts about the mission, which is training up the Afghans to provide their own security. While nearly every soldier in Helmand talked of real progress when asked, there is still a recognition that hard-fought gains could be lost.
Kingsman Ben Shaun of 1 Lancs sounded optimistic about the future, but if you read his words carefully you will detect concerns shared by other British soldiers regarding what will happen when they leave.
"Hopefully they'll keep to it. Maybe not as much now we're not there observing what they're doing. Maybe they'll slack it a little bit. But hopefully we don't have to come back and do the same job again," he says.
'Huge pride'
An Afghan military depot illustrates part of the the problem. Afghan engineers are able to carry out repairs on their old American Humvees, but outside the workshop there are more than 100 idle vehicles, waiting for spare parts. The logistical supply chain has still not been sorted out. How will they cope when international troops leave with all their kit and help?
Yet the British commander in Helmand, Brig Bob Bruce, is convinced that it is the right time to hand over control to the Afghan security forces. He says "they're ready and have huge pride in the job".
That is certainly shown by the top Afghan Army commander in central Helmand, Brig Gen Sherin Shah. He has been fighting the Taliban for more than a decade and his chin bears a large shrapnel scar to prove it. The insurgency has proved resilient, but so has he.
Gen Sherin Shah says he is not worried about the British withdrawal from Helmand, as it is not "sudden" but carefully planned. He insists the 438 British troops who have lost their lives in Afghanistan "have not died in vain". Before the British came, he says, Helmand was a violent province with no security and no democracy. Now 65,000 boys and girls are able to go to school.
There are real signs of progress in Helmand. But there are also reminders of the failures of past foreign intervention. Camp Shawqat, where Captain Walter Barrie died, is surrounded by the ruins of an old fort. The sandy mud walls that glow in the winter evening sun were built and occupied by British forces in the second Anglo Afghan War. But they were driven out and defeated in 1882.
This time the hope is that Britain will have left a more enduring legacy. But for now it is a "hope" and not a guarantee.