Former MP Sir Irvine Patnick dies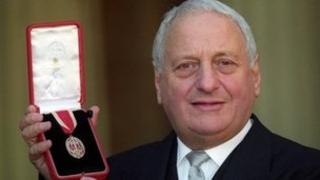 Former Conservative MP Sir Irvine Patnick has died at the age of 83.
He was MP for Sheffield Hallam for 10 years, from 1987 to 1997, in Margaret Thatcher and John Major's governments.
Sir Irvine recently apologised for repeating "inaccurate" information about the Hillsborough tragedy which he said he was given by police officers.
A statement issued by his family said Sir Irvine "died peacefully", and had been a "much loved" husband and father who would be "sadly missed".
Sir Irvine was criticised in the Hillsborough Independent Panel's report on the Hillsborough disaster.
Ninety-six Liverpool fans died after a crush at Sheffield Wednesday's stadium during the FA Cup semi-final with Nottingham Forest in 1989.
September's report confirmed him as one of the sources for a notorious Sun newspaper story that smeared Liverpool fans after the disaster.
It found that the story, under the headline "The Truth", had come from a news agency based on conversations with South Yorkshire Police and Sir Irvine.
Sir Irvine subsequently apologised, saying that he had passed on information from police that was "inaccurate, misleading and plain wrong", for which he was "deeply and sincerely sorry".
In October, Labour MP Steve Rotheram called for Sir Irvine to be stripped of his knighthood.
The Mayor of Liverpool Joe Anderson echoed the call, arguing that Sir Irvine had "brought the Honours system into disrepute" and helped to bring "overwhelming misery" to the people of Liverpool.
Synagogue vice-president
In a statement issued following his death, his family said: "Sir Irvine Patnick OBE, died peacefully on 30 December 2012, aged 83, in Sheffield.
"He was a much loved husband of Lynda and father of Suzanne and Matthew.
"He'll be sadly missed by his brothers and by all all his family and friends."
Sir Irvine was born in Sheffield, educated at its Central Technical School and later went to Sheffield Polytechnic.
He entered Parliament in 1987, having unsuccessfully contested the seat in Hillsborough in 1970 and 1979.
As the only Conservative MP in the county, he was credited with coining the phrase, "the Socialist Republic of South Yorkshire", which he intended as criticism but was adopted with pride by many in the area.
He was made a Conservative government whip in 1989, but admitted that he missed the broadcasting appearances no longer open to someone in that role.
"It's like seeing a very juicy meal that you want to get to and finding there is an invisible barrier stopping you getting towards it," he said.
Sir Irvine was vice-president of the Sheffield Jewish Congregation and Centre, life president of Sheffield Jewish Representative Council, and a former national vice-chairman of the Maccabi sports and youth organisation.
His former constituency of Sheffield Hallam is now held by the Lib Dem leader Nick Clegg.