Chief rabbi Ephraim Mirvis fears rise in anti-semitism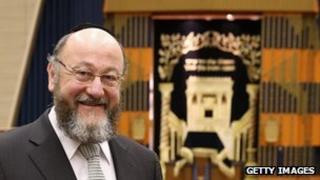 The next chief rabbi, Ephraim Mirvis, says he fears anti-semitism may spread to Britain from the rest of Europe.
The 55-year-old, a former chief rabbi of Ireland, will succeed Lord Jonathan Sacks in September.
Rabbi Mirvis said he believed some rhetorical attacks on Israel stemmed from anti-semitism.
In an interview with BBC Radio 4's Sunday programme he also admitted there were some divisions among Britain's Jewish community.
Lord Sacks, 64, has held the post of chief rabbi since 1991.
The role is traditionally seen as the figurehead of British Jews, although it is only officially representative of the 70,000-strong United Synagogue - the biggest wing of orthodox Judaism in the UK - and other communities across the UK and parts of the Commonwealth.
'Rising trends'
The chief rabbi does not officially represent other branches of Judaism.
Rabbi Mirvis said Britain had a good record on combating anti-semitism but he added: "There are rising trends on the continent and we do have a fear for the future that some of this will spread to the UK."
He said: "We are delighted that anti-semitism is seen here not as being a problem only for the Jews, it's a problem for society and it is part of overall racism."
Rabbi Mirvis added: "There are sometimes attacks on Israel which at their base arise out of anti-semitism, and sometimes that's not the case."
Asked whether the Orthodox Jewish and Reform Jewish communities were more divided than ever, Rabbi Mirvis said: "There is some division but there are many areas in which we are working in a very cohesive way.
"My track record is that I have always sought to work with warmth and in a constructive way with the leaders of other components of the Jewish faith."
Ned Temko, former editor of the Jewish Chronicle, told the Sunday programme that Lord Sacks would be a "difficult act to follow" but he said Rabbi Mirvis's track record as a "conciliator" might help him to bridge divisions within the Jewish community.