Most consumers 'spent less on Christmas this year'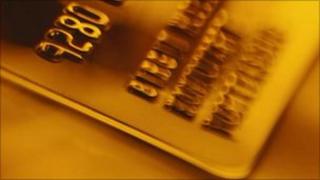 A majority of consumers spent less on their Christmas shopping this year than they did in 2011, according to a survey by the consumers' association Which?
Nearly half used credit cards, overdrafts and other borrowing to help fund their purchases, the survey of 2,100 people across the UK suggests.
Nine out of 10 agreed that they felt under pressure to spend too much during the festive season.
Just under half - 46% - used some form of debt to help them meet their bills.
Nearly a quarter claimed they would not otherwise have been able to afford their Christmas shopping.
Credit cards were the most popular form of borrowing, although a substantial proportion also relied on authorised overdrafts from their banks.
A majority reported they had found the Christmas period financially tougher than last year, and more than half of those questioned also said that they had cut back on their seasonal spending.
However, the message from the retail industry so far is that Christmas sales were acceptable, and may have been a little higher than last year.
The survey suggested 54% of consumers expected their Christmas budgets to be even tighter next year.
The average amount put on credit was £301, while for those who went into their savings, the average was £380.
Around 12% of consumers used authorised overdrafts, 8% spent on store cards and 5% simply borrowed money from friends or family.
Nearly half (48%) of those asked said they did not buy as much food and 45% bought less high quality food than last year because of increasing food prices.
Which? executive director Richard Lloyd said: "Most of us like to splash out on family and friends at this time of year, so the news that millions of people have drastically cut back on Christmas spending or taken out loans to cover Christmas costs shows just how squeezed household budgets are right now.
"It also shows how far we are from a consumer spending-led economic recovery."