William Rees-Mogg, former Times editor, dies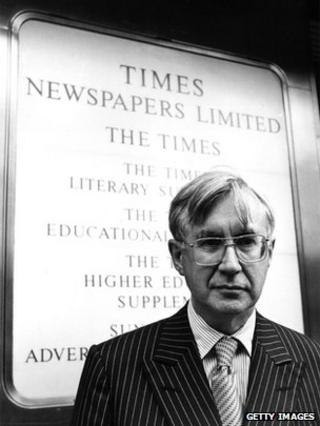 Journalist William Rees-Mogg, former editor of the Times, has died aged 84.
The peer, who led the paper during a bitter industrial dispute in the 1970s, passed away after a short illness.
Lord Rees-Mogg was also a former chairman of the Arts Council and vice-chairman of the BBC.
"It has been a mercifully short illness. He died very peacefully and a member of his family was with him. He was very prepared for it," his son, the MP Jacob Rees-Mogg, told the newspaper.
Paying tribute, Prime Minister David Cameron said: "William Rees-Mogg is rightly a Fleet Street legend - editing the Times through a tumultuous period with flair and integrity.
"I always found him full of wisdom and good advice - particularly when I first became leader of the opposition.
"My thoughts are with his wife and five children at this sad time."
Lord Rees-Mogg was born in Somerset and went from Oxford - where he was president of the Oxford Union - to the Financial Times, then to the Sunday Times, where he was deputy editor for three years.
He finally went to the Times, where he succeeded Sir William Haley as editor, in January 1967 and was at the helm during one of the most turbulent periods in the newspaper's history, until March 1981.
A dispute over new technology led to the newspaper being off the streets for 11 months in 1978-9.
When it returned he was still editor, but before long Lord Thomson sold out to Rupert Murdoch, and Lord Rees-Mogg was succeeded by Harold Evans.
In an editorial, he referred to his departure as "my resumption of liberty".
He famously condemned a three-month jail sentence for Mick Jagger for a drugs offence in 1967, in an editorial entitled - invoking the words of Alexander Pope -"Who breaks a butterfly upon a wheel?"
In the Times obituary, Lord Rees-Mogg's personality was described as somewhat contradictory.
"His owlish appearance and authoritative style suggested a man who knew his own mind on everything and would hold to his opinions with tenacity.
"In fact, except in matters of religious faith and personal conduct, far from being a model of steadiness he was, on the contrary, quite volatile."
He often changed his mind on major issues, but his views were always well expressed, says the newspaper.
"It's not my job to be right," Lord Rees-Mogg once said. "It's my job to be interesting."
His son Jacob, Conservative MP for North East Somerset, said his father had worked until the very end, writing his final column for the Times just two weeks ago.
"I had the greatest father anyone could ever want, who always encouraged his children in the different things that they did," he told the newspaper.
"He had the most extraordinary knowledge of almost every subject you could ever ask him about, and had this fascinating position in British public life for the last 60 years.
"He interviewed the leader of the opposition only six weeks ago, and had been a speechwriter for Anthony Eden.
"We are all enormously proud of him and all that he did; and that he found time to be the most active and loving father."
His time at the Arts Council and the BBC were both eventful.
While he was chairman at the Arts Council, there was a dispute in 1983 over the appointment of a secretary-general.
And in 1985, when a BBC programme on Ulster was banned, following a clash between the governors and the director-general, there was a strike by many radio and television journalists.
Lord Rees-Mogg, vice-chairman of the governors, was considered to have been the prime mover in blocking the programme, which was amended and later broadcast.
He was also the proprietor of an antiquarian book firm, chairman of the publishers Sidgwick & Jackson and a director of GEC.
He was knighted in 1981, and created a life peer in 1988. He was married with two sons and three daughters.