Newspaper review: 'Sir Wiggo' dominates front pages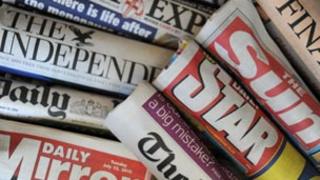 Bradley Wiggins appears on all the front pages - his knighthood is the lead for the Times, the Daily Mail, the Daily Mirror, the Sun and the Daily Star.
The Star's headline is "Arise Sir Wiggo".
The Times says the sporting achievements of 2012 have set the bar so high that athletes whose exploits would normally have earned a knighthood in any other year have to settle for a lower honour.
The Daily Mail points out that there's "no Sir Mo Farah or Dame Jess Ennis".
The Daily Telegraph says concerns have been raised that nearly twice as many civil servants and quango bosses have been given awards as medal-winning athletes.
And the Daily Mirror says the knighthood for the former head of the Financial Services Authority, Hector Sants, sits uneasily with the honours for the Olympics and Paralympics heroes.
University admissions
According to the Daily Telegraph's main story, ministers are to review controversial admissions rules intended to force leading universities to take more students from state schools.
It says critics believe it is not possible to make a "crude" judgment that the poorest pupils always attend state schools while the richest are privately educated.
With the economic downturn forcing an increasing number of middle-class parents to turn to top state schools, filling university places from such schools would render the targets pointless, it says.
A senior government source is quoted as saying: "It's a fair criticism and we probably need to look at it."
Europe warning
The Guardian says a group of pro-Europeans - including Lords Heseltine, Mandelson and Brittan - has warned David Cameron he risks leading Britain out of the European Union "by accident".
According to the paper, they say Mr Cameron has misread the willingness of fellow leaders to concede to his demands for a looser association.
Another member of the group, Lord Kerr of Kinlochard - who was involved in the Maastricht treaty negotiations - tells the paper he fears Britain is facing "bust-up time" with the rest of the EU.
The Prime Minister is expected to set out the terms of a referendum on Europe in a speech next month.
'Wombs for hire'
The Independent reports that wealthy British couples who cannot have children are increasingly seeking what it calls "wombs for hire" from women overseas.
For its lead story, the paper has obtained figures showing that the number of couples formally registering children born to foreign surrogates has nearly trebled in five years.
It says this raises concerns that poor women in developing countries are being exploited by rich Westerners.
Aid row
The Sun reports that David Cameron plans to keep "blowing billions on aid" to poor countries.
The Prime Minister is quoted as saying Britain has a "moral obligation to the poorest in the world", but the paper accuses him of an "obsession" with aid.