Tony Greig, ex-England cricket captain, dies aged 66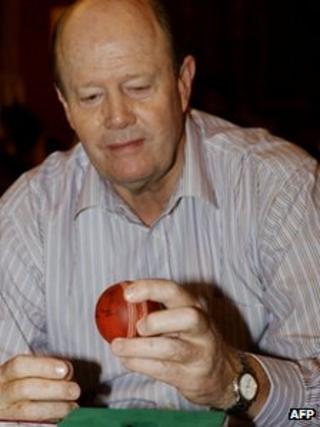 Former England cricket captain Tony Greig has died in Sydney after suffering a heart attack, according to Australian broadcaster Nine Network.
The South Africa-born 66-year-old had been diagnosed with lung cancer two months ago, it was reported.
He played 58 Tests for England from 1972-77, before giving up the captaincy to join Australian media magnate Kerry Packer's breakaway World Series.
He later became a popular commentator and had worked for Nine Network.
The broadcaster reported that Greig died at about 13:45 local time on Saturday, after being rushed from his home to Sydney's St Vincent's Hospital earlier in the day.
He is quoted as having told Channel Nine colleagues last month: "It's not good. The truth is I've got lung cancer. Now it's a case of what they can do."
He underwent an operation later in November.
In October, he tweeted: "Thanks to all of you who have sent me good wishes for a recovery. With your prayers and the help of my family I will give it my best shot."
And on Christmas Day, he posted the message: "Merry Christmas and a Happy, Healthy and Prosperous New Year to you all. Would love to be at Test but son Tom and I will be tuned in?"
Greig scored more than 3,500 runs and took 141 wickets during his Test career, and was named one of Wisden Cricketers' Almanack's players of the year in 1975.
He captained England's Test side on 14 occasions.
A career profile on ESPNcricinfo website suggests: "The controversial conclusion of his career, as one of the first and firmest disciples of Kerry Packer, have tended to obscure his all-round accomplishments: in the mid-1970s, there was no more complete cricketer, and he bequeathed to his successor as England's captain, Mike Brearley, a thoroughly professional and close-knit side."
Responding to news of Greig's death, current England player Matt Prior tweeted: "Can't believe one of my heroes Tony Greig has passed away. One of the greatest voices in cricket and will be sorely missed. #RIPGreigy."
And Pakistan coach Dav Whatmore tweeted in tribute: "Great man, great career. He will be missed."