Flood warnings remain in many areas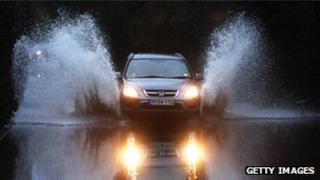 Widespread flood warnings are still in force across the UK, with further rain forecast for periods of the weekend.
There are currently more than 88 warnings and about 225 alerts in force in England and Wales, with 11 alerts and 10 warnings in Scotland.
Forecasters say there is a "good chance" that 2012 will be the wettest year in the UK since records began.
About 20-30mm (about 1in) of rain was expected to fall on Saturday, badly affecting areas already saturated.
The Met Office has issued a yellow warning - meaning "be aware" - for snow in much of central and northern Scotland on Saturday and Sunday.
A yellow rain warning has also been issued for much of Wales and western England on Saturday, Sunday and Monday, with the warnings for Sunday and Monday also including Northern Ireland and north-east England.
Saturday's heavy rain was expected to move eastwards across the UK, before clearing the east coast by the evening.
Forecasters predict fresh downpours will sweep eastwards on Sunday night into New Year's Eve, with a further 20-30mm of rain possible.
Met Office figures show that 2012 will go down as one of the wettest years since records began in 1910 and it could yet be the wettest.
On Friday, the Met Office said just 46mm (2in) of rain was needed to fall before 31 December to break the record for the UK, with 1,291.2mm (50in) having been recorded between 1 January and 26 December.
A new record has already been set for England, with 1,095.8mm falling in 2012 up to Boxing Day.
About 520 properties have flooded since Wednesday. The agency had issued flood warnings and alerts to 110,000 properties and it said more than 21,000 properties had been protected by its flood defences.
Water levels were predicted to peak in the River Thames over the weekend, but on Saturday morning an Environment Agency spokesman told the BBC levels in the river were "starting to level off".
The spokesman added that a "close eye" would be kept on the situation, especially in the area downstream of Oxford, where the flood risk would be the greatest if there is heavy and persistent rainfall.
The main rail line in the South West of England has reopened between Exeter St Davids and Tiverton after being closed for a week due to flooding.
Buses continue to replace trains between Liskeard and Looe in Cornwall, and the line is not expected to reopen until New Year's Day at the earliest, National Rail said.
Services also continue to be disrupted between Exeter St Davids and Exmouth, and Exeter St Davids and Barnstaple.
Coastguards have been dealing with a number of landslips and mudslides in Dorset and Devon.
To access more information, from your mobile, visit the BBC Weather and BBC Travel News sites.
The enhanced content on this page requires Javascript and Flash Player 9
Map Key
Land
Cloud
Lakes, Rivers & Sea
Fog
Light
Heavy
Frost
Light
Heavy
Pressure Fronts
Cold
Warm
Occluded
Rain
Light
Heavy
Extreme
Snow
Light
Heavy
Temperature tab only
Temperature (°C)
More details from BBC Weather