InterCity 125 designer Kenneth Grange knighted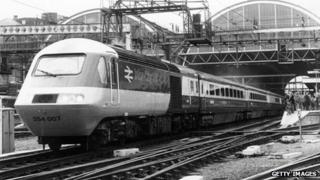 Designer Kenneth Grange - creator of the InterCity 125 train and Britain's first parking meter - has been knighted in the New Year Honours list.
Now a Royal College of Art visiting professor, he also designed angle-poise lamps and the Kenwood Chef mixer.
And the 83-year-old was behind Kodak's Instamatic camera.
Sir Kenneth, who said the 125 would be "on the rails when I've long gone off them", said he was "very pleased" because he was "a monarchist at heart".
"I'm quite a fan of Prince Philip - in our particular trade he's been very supportive for as long as I can remember," he said at his home in Okehampton, Devon.
"I hope he will be there when I have my investiture ceremony."
Sir Kenneth, who has won 10 Design Council Awards and became a CBE in 1984, is the only person to have won the Prince Philip design prize twice.
It was known as the Duke of Edinburgh's Prize for Elegant Design when he won it in 1966 and had been renamed the Prince Philip Designers Prize by the time of his 2001 victory.
A policeman's son, he grew up in London's East End before moving to Wembley during World War II.
He won a scholarship to Willesden School of Arts and Crafts where he studied drawing and lettering. His firm Kenneth Grange Design was formed in 1956 and in 1972 Sir Kenneth was one of the founding partners of the Pentagram design consultancy in London.
In 1958, Sir Kenneth was commissioned by the Design Council to come up with a British version of the parking meter as the US model was regarded as too ugly.
Work for Parker pens, the 1997 redesign of the London black cab and the Adshel bus shelter are among his other designs but he says the InterCity 125 high speed train has had "the most impact on the general life of the public".
In 2006 - 30 years after the first 125 passenger service left London's Paddington station for Bristol Temple Meads - Grange told the BBC News website his modernist classic had an immediate impact.
"There wasn't a sign of modernism in Paddington station," he said.
"So I think the workforce - let alone the passengers - was mightily affected.
"This was a real symbol of hope for the future - I believe that most fervently.
"Porters, guards, everybody were themselves buying little badges of this train."