Flood-hit areas face further rain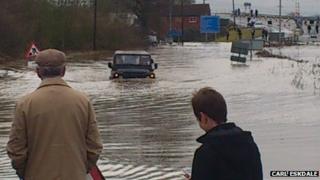 People living in flood-hit areas face renewed problems from storms, as further rain is forecast across the UK.
There are 78 flood warnings and 192 alerts in England and Wales, and 14 alerts and seven warnings in Scotland.
The main rail line in the South West of England has reopened between Exeter St Davids and Tiverton after being closed for a week due to flooding.
Meanwhile, Met Office figures suggest 2012 is set to be one of the wettest years since records began in 1910.
Chief forecaster Nick Grahame said it would not be known until next week if the UK had suffered its wettest year since records began in 1910.
It said just 46mm of rain needed to fall before 31 December to break the record, with 1,291.2mm recorded between 1 January and 26 December.
A new record has already been set for England with 1,095.8mm falling in the year up to Boxing Day.
The Thames Barrier was raised twice in 24 hours to keep the high tide out of London and reduce the risk of flooding as water from days of downpours with water levels expected to peak in the next 48 hours.
Localised flooding
BBC weather forecaster Mike Silverston said much of the UK would see heavy rain and strong winds over the weekend, with two bands of rain causing concern.
Western Scotland will see the most heavy rain on Friday, with winds gusting up to 80mph expected in the Hebrides, where there is an amber warning, which means people should be aware.
Up to 40mm of rain is expected fall in the South West on Saturday, with Wales and areas of north-west England expected to see between 60-80mm.
The Met Office has issued a yellow warning of rain for much of north-west and south-west England and Wales parts of southern Scotland.
He said because of the continuing saturated state of the ground this might lead to further localised flooding.
Another period of very wet weather will sweep eastwards on Sunday night into New Year's Eve, with another 20 to 30mm of rain, affecting those areas already badly affected by flooding.
'Around the clock'
The Environment Agency said Saturday's predicted rain posed the threat of minor disruption, including the flooding of properties and disruption to travel.
Pete Fox, flood risk manager at the agency, urged the wider public but particularly those living in north Wales and western England, to remain vigilant to flooding.
"Flooding is devastating at any time of year, but particularly at Christmas. Unfortunately, more heavy rain is forecast for this weekend.
"We're working around the clock to continue to protect homes and businesses from flooding and there are also things that people can do to protect themselves and their properties.
"If you're driving home this weekend, give yourself extra time to make your journey, check your route before travelling and avoid driving through flood water. Check the risk of flooding for your property and, if you're at risk, move valuable items to safety."
About 520 properties have flooded since Wednesday. The agency had issued flood warnings and alerts to 110,000 properties and over 21,000 properties had been protected by its flood defences.
A spokesman said: "River and ground water levels remain high. As a result, the Environment Agency is working with local authorities and emergency services to prepare for possible flooding from rivers, groundwater and surface water across the country over the weekend."
Buses continue to replace trains between Liskeard and Looe in Cornwall, with the line possibly opening on Saturday, National Rail said.
Services also continue to be disrupted between Exeter St Davids and Exmouth, and Exeter St Davids and Barnstaple.
Trains between Oxford and Didcot Parkway are delayed by up to 40 minutes due to flooding in the Oxford area.
An amber landslide warning was put in place by the British Geological Survey has for the South West, who urged walkers to take care along coastal routes.
To access more information, from your mobile, visit the BBC Weather and BBC Travel News sites.
The enhanced content on this page requires Javascript and Flash Player 9
Map Key
Land
Cloud
Lakes, Rivers & Sea
Fog
Light
Heavy
Frost
Light
Heavy
Pressure Fronts
Cold
Warm
Occluded
Rain
Light
Heavy
Extreme
Snow
Light
Heavy
Temperature tab only
Temperature (°C)
More details from BBC Weather