Day care services for elderly 'hit by cuts'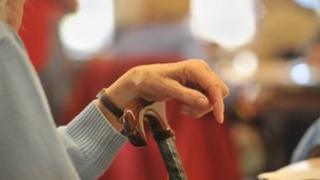 The number of older people using day care centres in England has fallen by nearly a quarter in three years, charity Age UK has said.
Age UK found the number using services such as lunch clubs had fallen from 88,498 in 2009-10 to 68,160 in 2011-12, and blamed councils' funding pressures.
It warned that thousands of older people faced "the prospect of living out their last years in loneliness".
The government said councils received sufficient funding to protect services.
Age UK looked at Department of Health figures - which only cover England - for the number of elderly people using day care provided or arranged by their local council over the past three financial years.
The services include the likes of exercise classes, hairdressing, podiatry, social activities and respite care to give carers a break.
The charity said council spending on the services had been reduced, charges to users increased, and eligibility criteria tightened so only those in greatest need qualified.
Age UK claimed council spending on older people's social care had dropped by £500m in real terms in just a year, from 2010-11 to 2011-12
The report also said approximately 80% of local authorities only provided social care support to those judged to have "substantial" or "critical" care needs.
This left "older people with lesser but still serious needs" without any state-funded support, it said.
Age UK director general Michelle Mitchell said: "We know that these services are really important to many older people but the brutal reality for older people with high care needs is that all too often there is not enough funding to allow for anything more than meeting the basics of their personal care.
"The crisis in social care is leading to vulnerable older people having no choice other than to lead an isolated existence."
Thousands of older people, she said, were "facing an end to their social life, and the prospect of living out their last years in loneliness".
She said the government needed to come up with "a sustainable and affordable new system of paying for care and support in old age".
The Local Government Association, which represents English local authorities, insisted councils were trying to protect elderly care despite swingeing cuts.
But government ministers said there were billions of pounds being invested in services for older people, and councils had no excuse for deciding to reduce them.