Witness protection: Robber turned 'supergrass'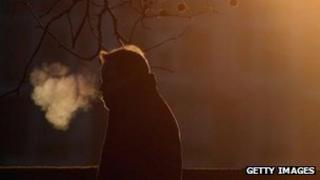 The government has announced the launch of the UK's first national witness protection service. But what is it like to be put under police protection?
Paul - not his real name - turned "supergrass" after confessing to being the inside man on a robbery by organised criminals that netted millions of pounds worth of goods.
For years the crime went unsolved until Paul, crippled by alcohol and drug addiction, had a nervous breakdown and told police everything.
He also agreed to give evidence against his co-conspirators.
At first the police didn't take him seriously and, when they did, they told him he'd have to plead guilty to his own role in the robbery and serve a prison sentence.
"Anybody who pleads guilty gets a reduced sentence," he says. "But there was no deal with prosecutors."
He wasn't granted anonymity in court - few people are - yet within 24 hours of his confession he'd been whisked away to a series of safe houses around the country before being permanently relocated and given a new identity.
"People think you get a new house, car and money but it isn't like that at all," he says.
"I was on Jobseeker's Allowance and, though they changed my name, they didn't erase my criminal record, just altered some of the details."
He had no wife and children but had to sever relations with his friends and has spoken to his siblings only twice in several years.
But Paul is lucky - he says his police handlers helped him.
'Patchy and inconsistent'
Friday's announcement of a reorganisation of protection services is partly a response to the 2010 inquest into the deaths of John and Joan Stirland, in Lincolnshire.
They were shot dead after police forces failed to share intelligence that they were at risk of a gangland attack after their son Michael O'Brien killed a man outside a Nottingham pub.
Victims' minister Helen Grant says the quality of protection programmes has been "patchy and inconsistent" because they've been separately run by each of the police forces in the UK.
Only those facing an immediate and real risk to their lives - currently some 600 people - will qualify for the new service.
Senior police officers say there's been an increase in the number of people with that status in recent years.
They include "Boy X" whose evidence secured the conviction of Shaun Mercer, the teenage gang member who murdered 11-year-old Rhys Jones in Liverpool in 2007.
The new service is also a confidence building exercise.
Mrs Grant has hailed witnesses as "unsung heroes".
"They are our champions of justice, we cannot do without them and I would urge them to please be brave, please come forward, if you do we will protect you," she says.
As for Paul, he now has a job and his current partner is expecting their first baby.
But there are elements of his past that must forever remain a secret from them.