Wet weather affects Britain's rail and roads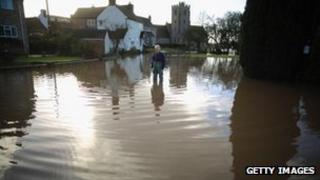 Continuing wet weather is affecting rail and road travel in Britain, with forecasters warning of possible further flooding over the weekend.
There are 82 flood warnings and 182 flood alerts in England and Wales, and six flood alerts in Scotland.
Lightning is thought to have started a fire in a Dorset school, and a west Highlands A-road has reopened after a Christmas Day landslide was cleared.
Rail passengers have been warned not to travel to or from Devon and Cornwall.
Residents in the village of Burton Fleming in East Yorkshire have appealed for sandbags because of flooding from the Gypsey Race stream that runs through the village. About 40 homes are at risk, and there are reports that a small number have already been flooded.
Yorkshire East Riding council says it has supplied 1,000 sandbags, with more available.
Fire crews say they have prevented flood water damaging an electrical substation near Reading, in Berkshire, which could have affected some 40,000 properties in the area and south Oxfordshire.
The Environment Agency said some 520 properties had flooded since Wednesday.
The enhanced content on this page requires Javascript and Flash Player 9
Map Key
Land
Cloud
Lakes, Rivers & Sea
Fog
Light
Heavy
Frost
Light
Heavy
Pressure Fronts
Cold
Warm
Occluded
Rain
Light
Heavy
Extreme
Snow
Light
Heavy
Temperature tab only
Temperature (°C)
More details from BBC Weather
In other developments:
Forecasters predicted that wet weather is set to continue over the weekend, potentially bringing further flooding to parts of the UK
The Thames Barrier in London was closed earlier to keep tidal water from adding to river levels
The A890 at Stromeferry, in west Highlands, has reopened to traffic. It was closed because of a landslide on Christmas Day, leading to a diversion for drivers of almost 150 miles
Eleven householders were advised to leave their homes after a landslip at Ystalyfera, in the upper Swansea valley
Train services have been amended between Manchester Oxford Road and Liverpool Lime Street until Friday, due to a landslip at Glazebrook
Train routes in the South West that are still closed include Liskeard to Looe in Cornwall, Exeter St Davids and Tiverton Parkway, and Exeter St Davids to Barnstaple in Devon
A monkey sanctuary in Looe, Cornwall, which cares for sick and injured primates caught up in the UK pet trade, has appealed for help after being devastated by flooding
Two separate fires in Dorset - one at a derelict hotel and another at a school - may have been caused by lightning
The Met Office said because of the continuing saturated state of the ground this may lead to further localised flooding.
A number of flood warnings, meaning flooding is expected and immediate action should be taken, and flood alerts, calling on people to be prepared for possible flooding, are expected to remain in place.
There are currently no severe flood warnings, which signal a danger to life.
BBC weather forecaster Jay Wynne said Friday will see the western half of Britain experience gale force winds and heavy rain later in the day, with weather warnings extending from the south west to the north west.
This weekend will be windy everywhere with some heavy rain, the heaviest being in southern England and Wales, he added.
Walkers on the South West Coastal Path, which covers most of the Dorset, Devon, Cornwall and Somerset coasts, have been warned to avoid potentially risky areas.
The British Geological Survey says it has concerns about the stability of cliffs due to recent heavy rain and urges extra caution near cliff edges.
Elsewhere, several A roads have been partially closed due to flooding, including the A27 in Chichester, West Sussex, the A361 in Somerset, the A417 in Gloucestershire, the A617 in Nottinghamshire, the A443 in Worcestershire, the A51 in Staffordshire and the A57 in Dunham-on-Trent.
Met Office figures suggest 2012 is set to be one of the wettest years since records began in 1910, largely due to the deluge of rain in the run-up to Christmas.
But the year 2000 remains the UK's wettest year, with an average rainfall of 1,337mm.
To access more information, from your mobile, visit the BBC Weather and BBC Travel News sites.