National Audit Office to examine BBC pay-offs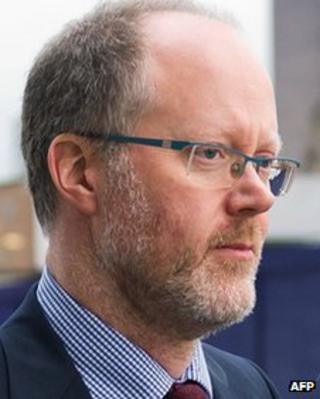 The National Audit Office is to investigate BBC severance packages in the light of the departure of director general George Entwistle.
It asked the BBC if it could specifically examine Mr Entwistle's pay-off and report to MPs.
But the BBC responded that a broader look of severance packages was more appropriate as the NAO cannot carry out "incident" studies.
About 200 managers each received pay-offs of more than £100,000 since 2010.
The NAO investigation was sparked after Mr Entwistle stood down in November with a £450,000 pay-off - double the amount he was entitled to - after a Newsnight report led to a former Tory treasurer being wrongly accused of child abuse.
An NAO spokesman said of the decision about the Entwistle inquiry: "We have placed this in our wider 2013 studies."
The Public Accounts Committee has previously criticised the BBC's use of licence fee payers' money as "cavalier" and "out of line with public expectations".
Among recent pay-offs was £949,000 for former deputy director general Mark Byford, and £670,00 for former chief operation officer Caroline Thomson.
Figures obtained by the Daily Telegraph under Freedom of Information laws show that between 2010 and 2011 the cost of redundancy payments at the corporation more than doubled to £58m.
A total of 14 executives received pay-offs of more than £300,000 each, worth a total of £6m, while 194 executives got £100,000 each.
The Telegraph reported that an unnamed finance officer was given a £420,000 pay-off, while Sharon Baylay, the director of marketing, was given a £392,000 pay-off.
In 2010, £27m was spent on redundancy payments for 481 staff and £58m in 2011 on 1,281 redundancy payments, the newspaper reported.
'Long-term saving'
The average pay-out for an executive made redundant at the BBC is £51,000.
A BBC spokesman responded to the newspaper article by saying: "The BBC is in the process of reducing its senior management numbers, which have come down by around 25%, and senior management pay bill, which has come down by around 30%.
"Some of this has been achieved by redundancy.
"While these redundancies involve costs in the short-term, in the long-term they represent savings for the corporation as these roles are not replaced."
The BBC Trust said it would provide "full access" to the NAO for "all the information they require".
A Trust spokesman added: "The chairman previously suggested that it would be useful for the NAO to look not just at the package George Entwistle received, but at severance pay in the BBC more widely.
"We have received their schedule of work for 2013 and we are pleased to see that they will take this approach in a planned review for next year."