Probation officers' union attacks private contractors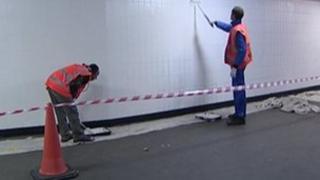 A "flawed" probation offices contract has attracted numerous complaints, the National Association of Probation Officers says.
For the fourth year running Napo has produced a dossier of complaints over work carried out by two private firms running probation offices.
They include staff travelling over 100 miles to unblock toilets.
The Ministry of Justice said all private contracts were scrutinised to ensure they were cost-effective.
The complaints have been made by clients of two private contractors.
Among the examples collected by Napo were:
Staff travelling 200 miles to clean windows and 110 miles to change light bulbs
Contractors dispatched from Norwich to unblock toilets in Leicester
A Cornwall hostel left with a broken fire escape, that was not fixed for 26 months
A community service building left vacant since the spring of 2012 which is costing taxpayers £15,000 a month.
Harry Fletcher, Napo assistant general secretary, said: "Privatisation of catering, cleaning and maintenance was a massive mistake."
As well as contractors travelling lengthy journeys for smaller jobs and repairs, significant larger repairs have been subjected to unacceptable delays, Napo said.
A Ministry of Justice spokesperson said: "All contracts with the private sector go through a strict competitive tender process and are scrutinised to ensure they are cost effective.
"They help us drive efficiency and achieve best value for taxpayers — any allegations of this not being achieved will be investigated."
"As part of our commitment to reform probation services, we will be reviewing these contracts to provide taxpayers with the best value for money."