Road pricing: More new roads could be funded by tolls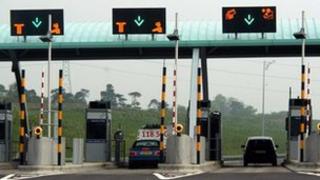 A plan to fund new roads using tolls which drivers would pay to private companies is to be included in the coalition's new policy agenda.
A recently approved upgrade to the A14 in Cambridgeshire could be the first building project funded by tolls.
The policy programme - for the second half of the coalition - is expected to be set out in the new year.
A spokesman said the DfT was looking at tolling schemes to fund "new capacity in very limited circumstances".
In the Autumn Statement earlier this month, Chancellor George Osborne announced that a feasibility study would be carried out by the Department for Transport.
It will explore whether private sector companies could own new roads and how new road building projects could be funded.
The spokesman said the government had made a "clear commitment" not to toll parts of the existing road network and that position "has not changed".
He added: "We have always said we would look at schemes which would fund significant new capacity through tolling. This would be in very limited circumstances and only where schemes deliver new roads or transform an existing road literally beyond all recognition."
Massive taxation
More than 20 national road building schemes have been approved by the government, and currently only the A14 improvement scheme is being considered for tolling.
BBC political correspondent Chris Mason said road tolling was seen by its supporters "as a more sophisticated way of charging motorists for using the roads than vehicle excise and fuel duty".
Our correspondent added: "Tolling can take account of where and when a driver is using certain roads, but road tolls are a very visible charge and likely to prove rather tricky to sell to a largely sceptical electorate."
Professor Stephen Glaister, director of the RAC Foundation, said the government was looking for radical solutions to the "chronic problems" of congestion and rising traffic levels due to population growth and under-investment.
"As always the devil will be in the detail. Who would be the winners and losers under a change of regulation and would the already massive amount of tax taken from motorists rise overall?" he said.
"Drivers rightly feel they are already been squeezed and any change has to deliver real benefits not just more financial misery."
In 2007, about 1.8 million people registered their objection to road-pricing in a petition on the Downing Street website.
Peter Roberts, from the Alliance of British Drivers which organised the petition, told BBC Radio 4's Today programme that tolls would be a political disaster.
"There's something in the region of £50bn taken in road-related taxes every year and the government spends a small fraction of that on the roads, so it's not as if we're not paying for the roads already," he said.
"It's not fair that at the moment that the government should take such a massive amount of tax in road-related taxation and spend such a pitiful amount on the roads."
There are already examples of tolls on the UK road network, such as the London congestion charge and at the Dartford Crossing.
The M6 Toll road, which aims to alleviate the increasing congestion on the M6 through Birmingham and the Black Country, opened in 2003.
In March, the prime minister David Cameron called for an "urgent" increase in private investment to improve England's road network.
He said tolls for new roads were one option, alongside attracting more money from pension funds and other investors.