Troop Christmas boxes bring taste of home to forces overseas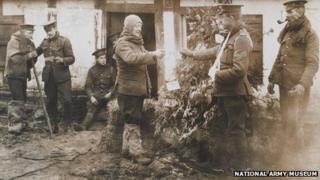 For more than a century, British troops have been receiving gift boxes at Christmas to bring them a taste of home comforts. The BBC's defence correspondent Caroline Wyatt looks at the history of such gifts, and the impact they still have for modern soldiers.
The cigarette papers are now as fragile as the wings of a moth, but the cigarettes inside the Christmas boxes sent to British forces serving on the western front in 1914 are still remarkably intact.
They have been preserved in their embossed brass tin for almost a century.
You can only imagine the journey these boxes made, across the Channel and on to the men fighting day and night in their cold and muddy trenches, far away from their families that Christmas, in the "war to end all wars".
The public subscription in the UK to raise the money to send the boxes only began in November 1914, when 17-year old Princess Mary decided she wanted to send a personal gift and card to all the British troops serving on the front lines.
Her funds, as it turned out, did not quite stretch to half a million or so boxes, but the British public was keen to contribute.
Not all the boxes were delivered on time that Christmas, but when the fund eventually closed in 1920, it had raised the remarkable sum of £160,000, with the surplus going to the Princess's charity for the families of servicemen.
At the National Army Museum in Chelsea, senior curator Sophie Stathi gently lifts one of the original boxes from its tissue paper wrapping.
She wears white gloves to prise open the lid, cautiously, to reveal the cigarettes and the packet of tobacco next to them. A pipe was also sent separately.
On top, inside the box, is a Christmas card, wishing the troops a happy Christmas and a "victorious new year" from Princess Mary and her friends. The war was not to end for another four years, on 11 November, 1918.
"These gifts have a personal feel," says Ms Stathi, "and it's surprising how many tins have survived. We have 80 in our collection alone, and quite a few still have their contents.
"It's a wonderful tradition, and it meant a lot to the troops, as their letters home and testimonies at the time show."
Some kept the tins intact, or sent them home to their families. Princess Mary did think of non-smokers as well, sending out a separate version of the tin with sweets, and another with spices for Indian troops.
That same year, Queen Alexandra also sent her own card and box of cigarettes to some soldiers, with her portrait on the box. Each cigarette was inscribed with her name.
The contents of 2012's Christmas boxes, being opened on Christmas Day by British servicemen and women serving abroad, as well as those wounded and recovering in hospital, are rather different.
No tobacco, and no chocolate, unlike the ornate boxes of chocolate that Queen Victoria sent out thousands of miles away to the 120,000 British troops fighting for Queen and Empire in the Boer War in 1900.
Instead, today's tin boxes contain useful items such as wind-up torches and sewing kits with khaki or blue thread, for mending uniforms, and even Vaseline to soothe chapped lips in the cold of a Helmand winter. One year, the box contained Earl Grey tea. This year, it is sachets of coffee.
The boxes are prepared and sent by a British charity called uk4u, set up in 2005. But the impulse and spirit behind them is the same as it was in 1900 and 1914, according to director and trustee Sally Little.
"We have sent off just over 22,000 boxes, to servicemen and women all over the world, and we rely on our business sponsors and members of the public to donate, as we don't have any public funding at all," she says.
"We call it a gift from the nation, and we get a lot of emails and cards from those who receive them to say 'how nice that people are thinking of us'."
The 22,000 boxes were despatched to Afghanistan, the Falklands, Belize, and many other places months ago, to ensure they reach British forces serving on operations who cannot spend Christmas with their families.
Even those spending Christmas deep under the ocean on the UK's submarines will receive one this Christmas Day.
"Those take the most organisation, as the submarines can sometimes leave in September or October and are then away for six months," says Sally.
"So we have to make sure they're on board before it goes to sea."
The most popular items in the boxes, which are each the same size as a military 24-hour ration pack, are the head-torches or wind-up torches. The 2012 box has the jubilee colours around it, and a lock so that service personnel can use the tins afterwards for their personal things.
These modern-day Christmas boxes have become known as the "square stocking", and the contents vary each year, with troops encouraged to give feedback.
Major Mark Scadden, 49, is spending this Christmas at home. But last year, he was serving in Afghanistan, where he received the 2011 Christmas box.
"It's morale in a box, and unlike the personal presents your family might send, these are practical items and they're well received," he says.
"Last Christmas, it had a Rubik's cube, a Santa hat - though there were a few restrictions on where you wore that hat - and a sewing kit that I've kept. When you open it, it gives you that feeling that you're not forgotten out on operations, so it's really nice to receive them."
Maj Scadden thinks that Christmas is hardest for the families back at home, as those serving abroad will often spend the day at work.
And they're not the only ones working this Christmas Day, says Maj Scadden.
"Santa's been very busy on the frontline. Though in Helmand, he's probably got an armoured sledge."