Iraqis receive £14m compensation from Ministry of Defence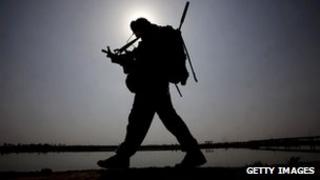 The Ministry of Defence has spent £14m settling claims from 205 Iraqis who alleged abuse by British troops.
Most of the claims have been for unlawful detention and mistreatment between 2003 and 2008, with the average payout being about £68,000.
Most of the claims - 162 - were settled this year, at a cost of £8.3m.
A further 196 claims were still under negotiation. The MoD said all allegations of abuse were thoroughly investigated.
The compensation cases date from the five years in which British forces were in Iraq after the 2003 invasion to topple Saddam Hussein.
The MoD said individual settlements were private and confidential.
However, details of one compensation case have been revealed before.
Just over £2.8m was awarded to the families of Baha Mousa and nine other Iraqi men who were abused by UK troops. Mr Mousa died after he was hooded, handcuffed and severely beaten by soldiers in 2003.
The hotel receptionist had been arrested in a crackdown by soldiers who believed, wrongly, that he was an insurgent involved in the murder of four of their colleagues the month before.
Before the bulk of the claims were settled in 2012, 26 were settled between 2008 and 2010, with a further 17 settled in 2011.
An MoD spokesman said: "Over 120,000 British troops have served in Iraq and the vast majority have conducted themselves with the highest standards of integrity and professionalism.
"All allegations of abuse will always be investigated thoroughly. We will compensate victims of abuse where it is right to do so and seek to ensure that those responsible are brought to justice."