CIA drone strikes: Is the UK involved?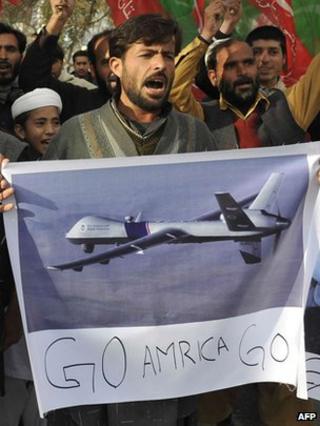 The High Court has ruled that it will not review whether British intelligence agencies are passing information to the CIA to help them carry out drone strikes on suspected terrorists in Pakistan.
The court has refused to judicially review whether it was lawful for one of the UK's secret agencies to provide information to the United States, which could be used to target drones.
Lord Justice Moses said that the courts could not intervene in the case - but the judgement leaves questions over whether or not the UK is playing a role in the CIA's controversial drone strikes strategy against al-Qaeda.
Drones are now a familiar part of the modern military landscape - and the RAF is currently expanding their use as part of the UK's operations overseas.
Although the US originally developed drones, usually known officially as Unmanned Aerial Vehicles (UAVs), as a constant eye in the sky for troops on the ground, some of them have been armed with missiles since 2002.
There are no US figures for the number of casualties from drone strikes, but researchers estimate the number of people killed in Pakistan since 2004 is between 2,500 and 3,300 - more than 170 of them children.
Earlier this year, after years of secrecy, President Obama defended the use of drones, saying that the strikes were legal under both US and international law. He said drones had "not caused a huge number of civilian casualties," stressing that their use was "kept on a very tight leash".
However, the High Court challenge in London was brought by lawyers acting for a Pakistani man who said his experience had been quite different.
Noor Khan lives in a town in North Waziristan, a few miles from the border with Afghanistan.
His father, Malik Daud Khan, was killed in March 2011 when a missile fired by a US drone struck a meeting that his father was attending.
Mr Khan says that this father was a member of a traditional jirga, a council of elders which had convened to resolve a local commercial dispute. Some 50 people died in the strike, making it one of the most deadly on record.
Ever since that day, Mr Khan says he and his community have lived in constant fear of the machines they hear passing overhead, not knowing when, where or why the next attack will happen.
So what has this US drone strike got to do with the UK?
'Locational intelligence'
Lawyers acting for Mr Khan told the High Court that they were not seeking to challenge the legality of the US strikes - but the actions of the UK in potentially assisting them.
They said that officials at GCHQ, the UK's secret communications intelligence agency, could be providing "locational intelligence" to the US - information that helps the CIA to track the targets for its drone strikes.
If they were passing on this information, then that could be breaking the UK's criminal law because the officials had arguably become "a secondary party to murder".
The government has neither confirmed nor denied whether there is a policy to share locational intelligence for use in drone strikes.
In an interview with the BBC, Foreign Secretary William Hague said: "Once you comment on one case you have to comment on many hundreds of other cases. I can't comment on who we share intelligence with, and on what subjects."
During the High Court challenge in October, government lawyers warned that the British courts were being drawn into a highly sensitive area concerning the activities of intelligence agencies on both sides of the Atlantic and, also, the relationship between Pakistan, the UK and US.
James Eadie QC, for the government, argued that the case could not be dealt with by the judges because ministers were being asked questions they could not answer in open court.
He said it was hard to imagine a more obviously sensitive case and that there was a "potential for real damage to international relations" which could, in turn, damage national security.
Concern in Parliament
But there is growing unease in some parts of government and Whitehall over whether information is being passed on to the CIA which is then used to kill.
Conservative MP Rehman Chishti has repeatedly asked questions about drones in Parliament - but has received no answers on the basis that intelligence matters are not discussed in public.
He said: "There is a cloud of secrecy in terms of the basic answers we want. What is the policy? What are the criteria? What are the circumstances? What are the rules in which drones are operated?"
"The inference I draw from the government not answering [these questions] is that the government is sharing intelligence with the United States because, if it wasn't, it could quite easily say."
US officials insist that drone strikes are helping to win the war against al-Qaeda. Earlier this month, one of the group's top commanders was reportedly killed. Abu Zaid al-Kuwaiti is said to have died along with 10 other people near Mir Ali in North Waziristan.
But critics of the highly controversial policy, which has been greatly expanded during the Obama Presidency, say the attacks are helping to radicalise and swell the ranks of militants.
Kat Craig, legal director of campaign group Reprieve, said: "The CIA drone programme in Pakistan is illegal.
"Our co-operation with the CIA is therefore unlawful but it is also immoral. We are killing innocent civilians and children. That doesn't make us safer and some may well argue that places us in greater danger."
The United Nations has begun its own investigation into the use of drones in counter-terrorism operations and it is expected to publish its findings next year.
In the meantime, lawyers representing Noor Khan are expected to appeal today's High Court decision.