Jimmy Savile scandal: Media reaction to BBC Pollard Review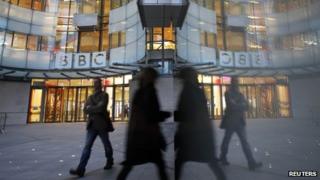 An inquiry into why Newsnight dropped its investigation into the Jimmy Savile child sex abuse claims has been critical of the BBC.
The Pollard Review found there was "chaos and confusion" in the handling of the shelved report, although there was no cover-up.
It said the BBC's management system had "proved completely incapable of dealing" with the issue and said "leadership and organisation seemed to be in short supply".
The BBC director general George Entwistle quit in the wake of the Savile scandal and, following the Pollard Review, deputy director of news Stephen Mitchell resigned and the editor and deputy editor of Newsnight are being replaced. No-one has been sacked.
So what do commentators - and the UK press - make of the report and where the BBC goes from here?
Commentators
Janet Street-Porter, journalist and broadcaster, writing in the Independent on Sunday:
"For the BBC to survive, all workers have to be no more than two executives away from the top. My single message to Tony Hall would be, wield the scythe, and hack out the self-satisfied slack. Pollard demonstrates exactly how programme makers have become demoralised and abandoned by executive failure. Tony Hall has to reconnect with the coalface to achieve anything."
Robin Lustig, former presenter of Radio 4's the World Tonight, writing in the Guardian:
"In retrospect, setting up the Pollard review was probably a mistake, a decision taken in haste by a new and untested director-general, George Entwistle. If the now notorious blog written (originally as an internal briefing note) by Newsnight editor Peter Rippon was inaccurate, it should - and could - have been promptly corrected. If the decision not to proceed with the Savile film was a mistake, that was something for the editor's superiors to take up with him."
David Hughes, chief leader writer of the Daily Telegraph:
"This was not about undue influence being brought to bear on Newsnight to shelve the investigation but an utterly shambolic chain of editorial command. The BBC's journalists have been let down pretty spectacularly and it is now pretty clear that there will have to be a fundamental re-structuring of the corporation's news operation. No wonder the BBC chairman Lord Patten looked so thunderously grumpy."
Dan Sabbagh, Guardian's head of media and technology:
"[The report] reflects a BBC - for all the brilliant programmes - that has too inward looking a culture, too few executives with outside experience and too many people who think it is more important to keep off other people's turf rather than get to the bottom of problems."
Trevor Kavanagh, associate editor, the Sun:
"If anyone loses his head, it must surely be 'Lord Smug' himself, the pointless chairman of the even more pointless BBC Trust.... Lord Patten's one and only role as its chairman was to deploy his supposedly vast political nous to steer the corporation through storms and tempests. As yesterday's report revealed, he failed abysmally."
UK press editorials
"One experienced BBC production insider told the Observer the divisions in the BBC have made it malfunction. 'If everyone on Newsnight knew it was true that Savile was a paedophile, it should not have run a tribute to someone who was molesting girls in wheelchairs before they went on to Top of the Pops. A culture of secrecy has taken over at the BBC that would make the Greek Junta of the 1960s green with envy.'"
"The BBC that emerges from the Pollard report is a corporation hedged about by layers of safeguards that prove ineffectual when they are most needed... In what is essentially a blueprint for what must be done, he [Pollard] notes that change "must start with the people at the top". After his success at the Royal Opera House, this should be music to Lord Hall's ears."
"The damning review, led by ex-Sky News chief Nick Pollard, named and shamed several top BBC officials for baffling leadership failures. But yesterday only one boss — deputy director of news Stephen Mitchell — fell on his sword. The rest have simply been shunted sideways into other cushy roles."
"Nobody familiar with the inner workings of the BBC will see in Nick Pollard's report anything other than a true likeness. In lucid, compelling language, the report by the former head of Sky News into the Jimmy Savile affair paints a picture of modern dysfunction worthy of Francis Bacon's Screaming Pope."
"The upshot? After spending £2m of licence fee payers' money, a tame inquiry tells us what we already knew about the BBC's labyrinthine bureaucracy, inter-departmental rivalries, dishonest crisis management and critical lack of leadership. And now Auntie, with her bloated staff (she employs more journalists than all of Fleet Street put together) will just sink back into her subsidy-cushioned, Leftish, politically correct ways, as if nothing untoward ever happened."
"Every journalistic organisation will - regrettably - make mistakes, yet what is truly astonishing is the BBC scored own goals which were easily avoidable. The priority is to correct mistakes. But the big test will be what the BBC does in the future, not what it got wrong in the past."
"Ultimately, the key problem facing the corporation can be summed up in one word - trust. The journalistic credibility of the BBC, given its power and reach in this country, is an essential building block of our democracy (though these events lead to the inevitable questioning of its right to exist funded by the compulsory license fee). In addressing the shambles that is the corporation's management structure, getting the journalistic lines of accountability right must be a priority. Without renewed credibility on this front, progress is impossible."
"You don't get much for £2m these days. That's the cost of the Pollard Inquiry into the Jimmy Savile scandal at the BBC. And all to tell us what we could have worked out by reading the papers and watching the telly."
Twitter reaction
Richard Sambrook, director, Centre for Journalism, Cardiff University, and former BBC director of global news: "Deafening sound of personal axes being ground in response to BBC #pollard review."
Raymond Snoddy, former Times and FT media editor and ex-presenter of BBC's Newswatch: "BBC crisis should lead to questions about effectiveness of emails - people think they have discharged responsibility just by sending one."
Alastair Campbell, former No 10 director of communications: "Talk about navel gazing - Five Live switching from PMQs to report on Newsnight."
Miriam O'Reilly, former BBC presenter: "This is ridiculous. One wonders what a BBC manager has to do to lose their job #pollard."
Dan Wootton, Daily Mail columnist: "'Chaos and confusion' in BBC management over botched Jimmy Savile Newsnight investigation, says Pollard report. Surprise surprise."
Ben Bradshaw, former culture secretary and former BBC journalist: "#pollard extremely damning of #BBC management & its culture over #savile fiascos. Consequences must follow."
John Charles Laverty, executive editor of the Belfast Telegraph: "Re Pollard Report: heads roll at the BBC... straight into new, high-salaried, publicly-funded roles at the BBC. I wish I was making this up."
Tom Latchem, freelance journalist and former News of the World journalist: "Patten did himself or the BBC no favours there by getting aggressive in a presser when the BBC is supposed to be apologising. #pollardreport."