Heathrow and Gatwick airports 'need expanding'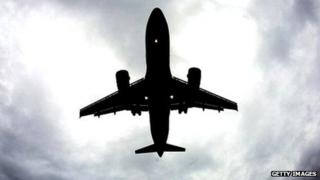 Heathrow and Gatwick airports should be expanded to improve the UK's business links with the rest of the world, the Institute of Directors (IoD) says.
The IoD has produced a report that says Heathrow needs at least one more runway and there should be a second runway built at Gatwick.
It comes as Sir Howard Davies begins work on a government-commissioned report into UK air travel provision.
However, that will not reveal its conclusions until 2015.
The IoD says planning permission for expanding Gatwick should be sought now, in order to be ready for when restrictions on new building there are lifted in 2019.
The business lobby group also says that Air Passenger Duty (APD), levied on departures from UK airports is "much too high" and should be frozen.
It points out that only six of the 27 European Union member states have a similar tax.
The current APD rate for passengers departing from a UK airport ranges from £13 to £184, depending on the distance travelled and cabin class.
Germany is one of the six with a departure tax, which is 42.18 euros (£34).
Rising demand
In a survey of its members, the IoD said 59% responded that lack of spare capacity at Heathrow was damaging inward investment.
The IoD says that the country as a whole has the capacity to handle 372 million passengers a year, far higher than the 2010 total of 211 million passengers.
However, it says that the UK lacks capacity where it is needed - in the south east of the country.
It says that the five airports in this part of the country - Heathrow, Gatwick, Luton, Stansted and City airport in London - are currently able to handle 181 million passengers a year.
The Department of Transport forecasts that by 2030 demand for these airports will reach 204 million passengers a year, and will rise again to 294 million by 2050.
The Mayor of London, Boris Johnson, favours airport expansion, but his wish is to build an airport island in the Thames.
Aviation Minister Simon Burns said the government took the issue seriously: "We know that to stay ahead we need to plan for the future and build a strong political consensus, which is why we have asked Sir Howard Davies to conduct a detailed, independent review of all the options for maintaining our connectivity.
"By the end of next year he will have delivered a shortlist of credible proposals as well as identifying ways in which we can make even better use of the capacity which already exists."
'Key crunches'
The IoD also criticised the visa system for holding up business.
It said visas for overseas visitors were too expensive and complicated and waiting times to get through immigration were too long.
IoD senior economic adviser Corin Taylor, who wrote the report, said: "British aviation faces several key crunches which require swift, co-ordinated action. Aviation is economically crucial, and the world is only going to become even more interconnected."
He said demand for travel in the south east of the country would soon outstrip available infrastructure.