Lord McAlpine settlement reached with BBC and ITV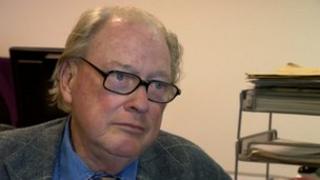 Conservative peer Lord McAlpine has formally settled his libel actions against the BBC and ITV at London's High Court.
It comes after the ex-minister, who was not in court, was wrongly implicated in child sex abuse allegations.
Unreserved apologies were made for the damage and distress caused.
His lawyers said the agreements involved the payment of £185,000 damages by the BBC and £125,000 from ITV, along with very substantial costs.
The Tory peer had previously said it was "terrifying" to find himself "a figure of public hatred".
In November, Newsnight broadcast a report on child abuse in north Wales care homes.
Lord McAlpine's name was not broadcast, but he was wrongly identified on the internet.
The Newsnight report led to the resignation of the then BBC director general, George Entwistle.
A settlement was reached with ITV and Phillip Schofield in relation to a This Morning programme broadcast after the Newsnight programme, during which the presenter handed the prime minister a list of names of alleged abusers he had found on the internet.