More people living beyond 100, says Office of National Statistics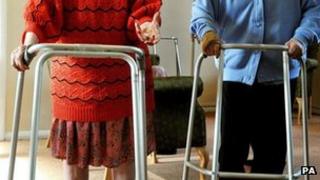 More people are living to beyond 100 in England and Wales, according to an Office for National Statistics report.
The number of people reaching their centenary rose from 2,280 in 1980 to 11,610 in 2010, it said. It also noted a rise in people living to 110.
Most people are also living for longer, it said, surviving for six years beyond life expectancy projections.
The trend towards an ageing population has prompted concern around health care, pensions and retirement ages.
Earlier this month Sajid Javid, economic secretary to the Treasury, warned that public sector pensions needed a major overhaul, saying the current system could not handle the "unprecedented" levels of people living longer.
In order to predict life expectancy, the ONS make assumptions, based on historic mortality and expert opinion, about future rates of improvement in mortality rates.
It found a boy born in 2010 could be expected to live until the age of 79, while a girl should live to 83. That compared with life expectancy of 71 for a boy and 77 for a girl born in 1980.
However, in analysing the age at which death is most common, the ONS has found most men are living until they are 85, and women to 89.
And over the past 50 years, between 1960 and 2010, the average life span increased by about 10 years for a man and eight years for a woman.
Just over 1% of the population - an estimated 524,200 people in England and Wales - was aged 85 or over in 1980, but that had doubled by 2010.
The ONS concluded that "an upper limit to life span has not yet been reached" in England and Wales, adding: "We will almost certainly see further increases in the average age at death."