Newtown shooting: Family of Dylan Hockley pay tribute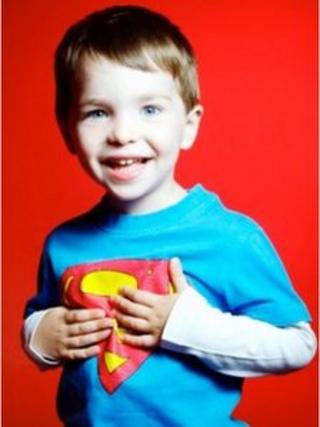 The parents of a British boy who was among 26 people killed in a US school massacre have said they take comfort in knowing he was not alone when he died.
Dylan Hockley, six, was shot dead at Sandy Hook Elementary School, in Newtown, Connecticut, on Friday.
His parents Nicole and Ian said their son was "wrapped in the arms" of his teacher Anne Marie Murphy when he died.
They said there were "no words" to express their loss and paid tribute to Dylan as a "special gorgeous angel".
The youngster was among 20 children and six adults killed at Sandy Hook school.
Two victims, Noah Pozner and Jack Pinto, both aged six, were buried on Monday after funeral services attended by hundreds. Other victims' funerals will be held throughout the week, and the town has already begun removing Christmas decorations in mourning.
'Amazing aide'
The Hockley family, who are believed to have lived in Hampshire, moved to the area two years ago from the UK, with Dylan and his elder brother Jake.
In the statement released by local police, his family said: "We will always be a family of four. Even though Dylan is no longer physically with us, he is forever in our hearts and minds.
"We love you Mister D, our special gorgeous angel."
Dylan's family said they would "never regret" the move to Sandy Hook, which they chose for the community and elementary school.
"Our boys have flourished here and our family's happiness has been limitless," the statement said.
They paid tribute to the school's head teacher, Dawn Hochsprung, school psychologist Mary Sherlach and Dylan's teacher Vicki Soto, who all died in the attack.
They added: "We take great comfort in knowing that Dylan was not alone when he died, but was wrapped in the arms of his amazing aide, Anne Marie Murphy.
"Dylan loved Mrs Murphy so much and pointed at her picture on our refrigerator every day.
"Though our hearts break for Dylan, they are also filled with love for these and the other beautiful women who all selflessly died trying to save our children."
'Feel love'
Dylan's family also thanked the emergency services who were first on the scene and said they had been overwhelmed by support since their son's death.
"It was an impossible day for us, but even in our grief we cannot comprehend what other people may have experienced," his family said.
"The support of our beautiful community and from family, friends and people around the world has been overwhelming and we are humbled.
"We feel the love and comfort that people are sending and this gives our family strength. We thank everyone for their support, which we will continue to need as we begin this long journey of healing."
They said their thoughts and prayers were with the other families affected by the tragedy.
"We are forever bound together and hope we can support and find solace with each other," the statement said.
The statement said Dylan "adored his big brother Jake, his best friend and role model".
"Everyone who met Dylan fell in love with him," it said.
"His beaming smile would light up any room and his laugh was the sweetest music."