Rabbi Ephraim Mirvis announced as next UK chief rabbi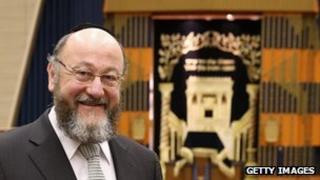 Ephraim Mirvis is to become the next chief rabbi of the UK and Commonwealth, the Office of the Chief Rabbi has said.
The 55-year-old, a former chief rabbi of Ireland, will succeed Lord Jonathan Sacks when he steps down next year.
Lord Sacks, 64, has held the post of chief rabbi since 1991.
The role is traditionally seen as the figurehead of British Jews, although it is only officially representative of the United Synagogue, the biggest wing of orthodox Judaism in the UK.
The chief rabbi does not officially represent other branches of Judaism.
The Chief Rabbinate Trust said in a statement: "The Chief Rabbinate Trust can this evening confirm that the consultative group has endorsed a recommendation by the working group to appoint Rabbi Ephraim Mirvis as the 11th chief rabbi of the United Hebrew Congregations of the Commonwealth, subject to appropriate contractual agreement."
Role 'challenged'
Rabbi Mirvis, who was born in South Africa and is married with four sons, is currently rabbi at Finchley Synagogue in north London.
He was a rabbi in Dublin before becoming Ireland's chief rabbi in 1985, a post he held until 1992.
He said of his new role: "I will seek to bring an ethical voice to the national debate in these changing and challenging times.
"A sense of religious identity has never been more relevant, nor more necessary in our fast-changing world and these difficult economic times."
BBC religious affairs correspondent Robert Pigott says the traditional role of chief rabbi as the figurehead for all British Jewry is being increasingly challenged by resurgent liberal and reform movements, which take a more progressive stance on issues such as gender and sexuality, and by a rapidly growing ultra-orthodox community.
The new chief rabbi faces numerous problems, including declining levels of observance and synagogue attendance, and a large proportion of young Jews marrying outside the community, our correspondent says.
Rabbi Mirvis, the son and grandson of rabbis, has been described by supporters as a good manager and great pastor, but critics claim he might struggle to match Lord Sacks's eloquence or intellectual performance in public life, our correspondent adds.