Police rebail Freddie Starr and Max Clifford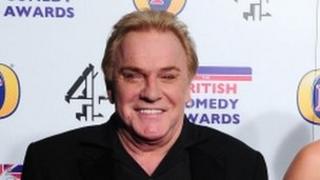 Entertainer Freddie Starr and PR agent Max Clifford have been rebailed by officers investigating allegations of sexual abuse.
They were arrested as part of Operation Yewtree, a Scotland Yard criminal inquiry established in the wake of the Jimmy Savile scandal.
Mr Starr will have to return to a police station in March and Mr Clifford in February.
Both men have denied the allegations of historical sexual abuse.
Operation Yewtree has three strands.
One is examining specifically the actions of Jimmy Savile, while the second strand concerns allegations against "Savile and others". The separate third strand relates to alleged complaints against other people unconnected to the Jimmy Savile investigations.
Mr Starr, from Warwickshire, fell under the strand termed "Savile and others", police said.
He has denied claims that he groped a girl of 14 while in a BBC dressing room with Savile.
"They're not true. I'm totally innocent," he told the BBC in October.
The comedian said he would welcome the opportunity to speak to police about the claims.
Mr Clifford, from Surrey, is being investigated under the third strand.
He has denied the "damaging and totally untrue allegations", saying anyone who knew him would have "no doubt that I would never act in the way I have today been accused".
Seven people have been questioned as part of the operation which has 30 officers and has already cost about £2m.