EU cod plan 'must not go ahead'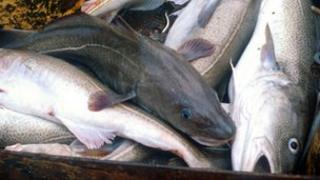 Plans to cut North Sea cod fishing quotas despite a rise in stock are "a bizarre counter-proposal" and must not go ahead, the fisheries minister says.
EU ministers meet on Tuesday for annual fishing quota talks. Richard Benyon said he would argue against cuts of 20% in catches and 25% in the number of fishing days.
He said scientists had told the government they were unnecessary.
But UK marine expert Callum Roberts said cod levels were still too low.
Under the EU cod recovery plan, which aims to get the fish back to the optimal level by 2015, automatic cuts in quotas and catch days are put in place each year if levels are not on track.
The EU ministers, who begin their talks in Brussels on Tuesday, have the power to override restrictions - a move supported by Mr Benyon and the British fishing industry.
"We're not absolutely perfectly at the trajectory laid out in the cod recovery plan but cod stocks are rising," he told BBC Radio 4's Today programme.
"The problem with the cod recovery plan is that it is a bad plan - there's no flexibility in it at all."
'Doing what we can'
He added: "We've got good scientific advice which says the proposed cuts to the quota will have a negative effect - it will actually result in more mortality."
He said that if the cuts - which would be implemented in February - came in, "fishermen, for example, will have less time to fish so they will fish closer to port, possibly where the fish are spawning, rather than where there are bigger fish so they won't be discarding."
He would go into the talks "abiding by science" and "working towards fishing to sustainable levels", he said.
He also said he would be "doing what we can to end discards" - the practice of dumping tonnes of fish back into the sea, dead, in order to meet quota targets.
But Mr Roberts, a professor of marine conversation at the University of York, said the cod recovery plan had been brought in to "do away with competitive bargaining" that had led to "very low stocks of fish species".
"Cod went down to all-time low in 2006," he told Today.
"Since then, there has been an encouraging upward swing in numbers but the fact remains that the cod are still below the lowest level at which scientists consider it safe to fish the stock.
"I think there's general consensus in science that these minimum levels of fish stock are necessary in order to maintain the stock over the long term."
Following the cod recovery plan would "lead us towards the ultimate goal of more cod in the sea - and therefore more to catch", he added.
The BBC's Kevin Keane, meanwhile, said a "power struggle" was threatening to derail negotiations before they began.
Members of the European Parliament (MEPs) had been given a greater say since the Lisbon Treaty became law in 2009, he said.
And he said some legal experts had warned that, if the EU ministers decided to impose cuts, it could face a legal challenge by the European Parliament.
Scottish Fishermen's Federation chief executive Bertie Armstrong told BBC News: "Over the last decade, the global volume of days at sea available to us has gone down by 70%.
"We need this to finish now, everyone agrees that, but we are watching, regrettably, an arm wrestle or power struggle which is nothing to do with fisheries management.
"It's about who has got the power to do what to whom between the council of minsters and the European Parliament."