Newspaper review: Horror and heroes of school shooting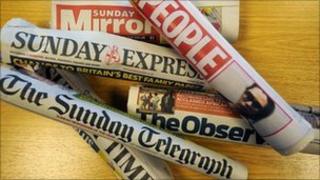 The heroism of teachers who tried to save their pupils from being murdered at Sandy Hook Elementary School is saluted in many of the papers.
Against a sombre blue background, the Independent carries a picture of 27-year-old Vicki Soto.
As the shooting started, the paper recounts how she hid her 16 pupils in a cupboard.
When the gunman came into the classroom, she told him the children were in the gym. She was then murdered.
The Sunday Express says a six-year-old British child was among the victims.
One of the first children to die is pictured on the front of the Mail on Sunday.
The paper says it is how the parents of Ana Marquez-Greene will want to remember her.
It contrasts that image with the abject terror that she must have suffered as the gun was turned towards her, after her friends had been systematically killed.
The Sunday Telegraph says many more children would have died but for the prompt action of the teachers.
One member of staff turned on the school's public address system so that the sounds of shouting and gunfire would alert colleagues to the horror.
The noise prompted them to move pupils into secure areas.
Much attention is focused on what motivated Adam Lanza to commit such an atrocity.
The Observer says he was reported to have been involved in an altercation with four staff the previous day.
Three were subsequently killed. The fourth was away from the school on Friday morning.
Gay marriage views
The Telegraph reports that Conservative activists have given a warning that David Cameron's determination to legalise same-sex marriage is driving Tory supporters towards the UK Independence Party.
The leader of a local Conservative association in Devon says it makes no sense for Mr Cameron to be concentrating on what he calls a side issue.
An opinion poll in the Mail suggests that six out of 10 voters support the government's plans.
But many are said to be sceptical about David Cameron's motives, agreeing - as the Mail puts it - that he's trying to curry favour with those with trendy views.
Gong rejection
According to the Sunday Times, the Oscar-winning film director, Danny Boyle, has turned down a knighthood for his role in producing the opening ceremony of the London Olympics.
When officials sounded him out, he indicated that a knighthood would have run counter to his theme of citizens being equal.
The Mail reports that a coded World War II message, found on a dead pigeon's leg, has finally been cracked.
Even experts called in from GCHQ were baffled by the content. But a historian who works in Canada says he has now deciphered the message, using a Royal Artillery codebook which belonged to a relative.