West Bank: Why do some UK Jews settle in Israeli occupied land?
By Samantha Dalton
BBC News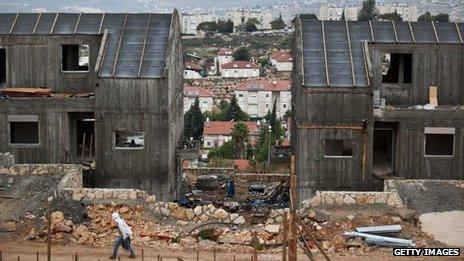 Every year hundreds of British Jews make the life-changing decision to emigrate to Israel. A small number of these decide to join settlements in the Israeli-occupied West Bank. What is life like for the West Bank Britons?
"We are not obstacles to peace, we believe in the two-state solution and anti-occupancy," insists Leicester-born British Jew Dr Samuel Lebens.
Along with his Londoner wife Gaby, Samuel moved to the West Bank from the UK in winter 2009. They now live with their two children in a gated community in Alon Shvut, about 10 miles south west of Bethlehem.
Samuel is a modern Orthodox Jew, meaning he believes is it possible for Jews to maintain Jewish law, ritual observance and customs while embracing secular knowledge and modern ideas.
"We were uncomfortable at first about coming to the West Bank. We came here almost against our own principles," he said.
"The media stereotype of settler is racist, against two-state solution, lawless, expansionist, extremist, but the reality is very different."
Israel occupied the West Bank and east Jerusalem in the 1967 Middle East War. To Israelis and religious Jews, the West Bank is known by its Biblical name of Judea and Samaria.
Successive Israeli governments have built settlements there since 1968, for both strategic and ideological reasons.
Many settlers regard living there as fulfilling God's will, based on God's promise in the Bible to give the land to the Jewish people. Currently about 500,000 Jews live in more than 100 settlements.
Settlements are considered illegal under international law, though Israel disputes this.
Peace talks between Israel and the Palestinians have broken down over the issue of settlements. Palestinians demand a full Israeli withdrawal from the West Bank and East Jerusalem, which they want for a future state.
Israel had indicated it is prepared to withdraw from some of the settlements while retaining the larger settlement blocs in any final peace deal.
For Daniel Cohen, who emigrated to the West Bank with his wife from Edgware, Greater London in 2007, moving to the occupied territories specifically was motivated more by practicality than ideology.
"We didn't say to ourselves, we want to settle on the West Bank. We looked at the best place to settle and this was it," he explains.
"We simply considered communities as a whole, based on their size, population, amenities, shops, medical facilities and number of English speakers."
Daniel, his wife and three children live in the Gush Etzion district, which he describes as a suburb of Jerusalem, in a gated community of about four or five hundred families in the sizeable village of Elazar.
He works for the world Mizrachi movement, which actively encourages Jews around the world to make aliyah, the process of immigration to "the land of Israel".
As a religious Zionist, he views his emigration to Israel as a spiritual return and prays three times a day for God to return the Jews to Zion, a synonym for the biblical land of Israel.
But, like modern Orthodoxy, Daniel says religious Zionism also embraces the secular world.
He continues: "There's a misconception of life in the settlements. People are not aware of how close we are to 'civilisation'.
"We don't see ourselves as any different to British Jews who have moved to Jerusalem. I see myself as a citizen and resident of Israel. I have not come here, gung-ho, to settle the land. I am living here because it is a place to live."
Despite the fact that they are born out of disputed land, neither Samuel nor Daniel feel threatened by life in the settlements.
Samuel says: "I don't carry a weapon and I don't feel unsafe, but certainly places in occupied territories can be unsafe. Some towns have had many infiltration incidents.
"We live in a gated community, but the terror threat is low. It is not heavily armed and there's no feeling that we need to be.
"We shop and eat among Palestinians. We live in a relatively affluent area for the West Bank. I wouldn't want to subject my children to living in a dangerous area."
Samuel did however say the fact that some rockets had reached the West Bank from Gaza during the conflict in November 2012 had done little to allay their safety fears.
Daniel, who also does not carry a weapon, insists he feels safer in his gated community than in parts of England.
"In terms of security, it is here 24/7. We can't rest on our laurels and say we are fine, it is in the back of my mind sometimes that something horrible could happen, but that's the reality of living in Israel and elsewhere in the modern world."
Samuel is now studying for his rabbinical ordination at Yeshivat Har Etzion, and sees his future in either Israel or the West Bank.
He tells me he is likely to move away from the settlements and back to the city in the coming years, although he does not believe he will ever return to the UK.
"Israel needs people to contribute to civil society, and I feel a big calling to be here. It is the home we prefer, marginally."
Related Internet Links
The BBC is not responsible for the content of external sites.